SXU Professor Makes Strides for Diversity in Speech Path Field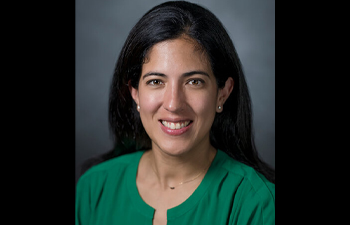 Saint Xavier University (SXU) communication sciences and disorders professor Giselle Núñez, Ph.D., has been named a recipient of the President's Faculty Excellence Awards. Through recently published articles, recognition from the American Speech-Language-Hearing Association (ASHA) and a grant in conjunction with a large urban school district, Núñez is bringing awareness to diversity, equity and inclusion within the speech-language pathology field and improving support for SXU's culturally diverse population.
When Núñez began her undergraduate career, she was uncertain about what she waned to do. As a freshman at the University of Illinois at Urbana-Champaign, she talked to some communication sciences and disorders faculty and observed a speech-language pathologist. Intrigued, she fell in love with the field. Part of her intrigue stemmed from her uncle, who had a severe fluency disorder that went untreated, which had a serious impact on his self-confidence, career options and overall mental health. She knew the field offered the potential to change someone's life, and she often thinks of him when working with students.
After graduating with a degree in speech and hearing science, she earned a master's degree in speech-language pathology from Rush University and a doctorate in special education from the University of Illinois at Chicago. She finds special education and speech-language pathology complement each other well and enjoys having both backgrounds.
Núñez was drawn to SXU because of its prestigious reputation for education in speech-language pathology.
"SXU is a powerhouse when it comes to speech-language pathology. Initially I wanted to work at a research-based institution. When I visited SXU, I really liked the community feel of the campus and the relationship between students and faculty. Being a first-generation college graduate and the only person in my immediate family to have a master's and doctorate, I felt the connection to students as well," said Núñez.
Núñez was recognized by ASHA for her article "Faculty of Color in Communication Sciences and Disorders: An Overdue Conversation." Núñez's article is a collaboration with other faculty members who met through the Minority Scholarship Leadership Program and is focused on understanding the microaggressions faculty of color tend to face and how to have conversations about cultural competency, impostor syndrome and barriers in university settings with faculty.
"One of our takeaways from the program was to be agents of change. We felt that through writing this piece, we were opening ourselves to not only being vulnerable, but also to conversations leading to changes that are needed in the field. We are looking forward to continued work on issues that pertain to diversity, equity and inclusion," said Núñez.
Núñez serves in a special interest group on cultural and linguistic diversity within the association and will take on a leadership position as coordinator this month. Members discuss systematic racism and inequities in the field, and she is able to bring the latest practice and research to her students at SXU. She and her group have created a culturally responsive teaching collaborative task force through ASHA, where they work on figuring out a database that provides information, articles, books and resources for faculty who are teaching multicultural courses across the country.
Núñez also published "Bilingual Supports for Clinicians: Where Do We Go from Here?" In this project, Núñez worked with a large urban district to determine where the gaps were in assessing bilingual students. Her team contacted bilingual speech-language pathologists in the district and distributed a survey to determine they needed assistance in the areas of research and professional development. She was recently awarded a grant in conjunction with the same large urban school district from ASHA related to diversity and inclusion. The grant provides training for all the speech-language pathologists in the district for assessing all students.
With all the work Núñez is doing, she was an an excellent choice for recipient of the President's Faculty Excellence Awards.
"I am honored to receive this award and to see my teaching, service and scholarship recognized at SXU. I am grateful to the students and colleagues that have helped and pushed me to grow. Without them, this award would not have been possible," said Núñez.
When it comes to teaching, Núñez particularly enjoys seeing her students' growth at the end of the semester. She is proud of the work they put into projects and their collaboration, critical thinking, ability to understand and retain the material, and ability to think like clinicians.
"I'm so happy at SXU. I really enjoy my career and love the community and where this position has taken me. It's an absolute honor and pleasure to give to SXU, and they have certainly given back to me," said Núñez.
In the future, Núñez is working to expand the Ludden Speech and Language Clinic to better support the community, including work with interpreters and dynamic assessments. She is also interested in participating in a study abroad program or service learning projects with speech-language pathology students.
---