SXU RSO Gives Back to Survivors of Domestic Violence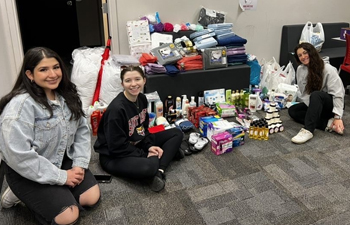 The Saint Xavier University (SXU) registered student organization (RSO) Start by Believing recently wrapped up a month-long service project to assist survivors of domestic abuse. The group collaborated with Alumni Relations to collect linens, towels, pillows and toiletries to benefit residents of Constance Morris House, a shelter for survivors of domestic abuse.
Start by Believing was formed this year after several students took a course on violence against women taught by Steven Taylor, Ph.D. The SXU chapter of the global cause was inspired by Taylor's course, and the group is determined to change the way people respond to sexual assault, support survivors, raise awareness and educate the campus. Start by Believing board members include Miranda Clinton, president; Danya Mohamed, vice president; Jacklyn Alfred, treasurer; and Alexandria Demas, secretary.
April is Sexual Assault Awareness Month, so Start by Believing worked with Title IX Director Keith O'Neil to get in contact with members of Pillar Community Health, a nonprofit organization that offers support for mental health, substance abuse disorders, and domestic and sexual violence. Start by Believing quickly coordinated a collection drive to donate items to Constance Morris House, their space for survivors of domestic abuse.
"We wanted to help the women and children of Constance Morris House. We are thrilled at how many donations we have received, including towels, bedding, soap, shampoo, conditioner and much more! It is on us to raise awareness about sexual assault. We cannot stay quiet; we must use our voices for those that cannot speak up. Survivors are not alone – we need to be kind, listen to people's stories, and start by believing them," said Clinton.
Marina Martinez, NSF-HSI grant program director, is a member of the Young Alumni Council, a branch of the SXU National Alumni Board. They got involved because they wanted to connect with current students and give back to the community in a joint effort.
"The event was important to us as a board because we want to make sure we are continuing to live out our mission to serve compassionately as SXU alumni and to ensure students are being supported when they have the call to give back. Being involved in the community is a big part of what makes the SXU family strong," said Martinez.
Start by Believing is excited to continue to expand and welcome new members in. In the future, they will hold informational meetings, collaborations with other organizations and events such as "Take Back the Night." They are also planning to host monthly discussions that empower survivors and educate others on ending stigmas.
---