SXU Selects Matt Cunningham as Director of Athletics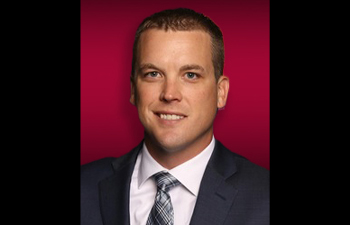 Saint Xavier University (SXU) selects Matt Cunningham as Director of Athletics.
Cunningham will collaborate with Associate Director of Athletics Kenyan Alston beginning in mid-February 2022 to lead the department. Cunningham comes to SXU after serving as Assistant Athletic Director at University of Michigan-Dearborn (UM-Dearborn), responsible for internal operations, compliance and annual reporting for 16 sport programs and more than 340 student-athletes.
Cunningham led as a trailblazing head baseball coach for UM-Dearborn, starting the first varsity baseball program in school history. His teams improved their conference standing each season of his tenure, culminating in the first postseason berth, and win, in 2021. His student-athletes achieved several individual accolades including a 2019 Google CoSIDA Academic All-American designation, the first for a team sport in institution history. Under his direction, the team maintained the highest male team GPA of 3.3 for the 2019-2020 academic year, received the annual athletic department Champions of Charity award in 2018, and had more First Team All-Conference position players (3) than any other team in the conference in 2019.
Cunningham brings extensive fundraising and external relations experience to SXU. He has a proven record of success in advancement spanning annual fund, special event and major gift fundraising, having served in the development office for Wayne State University's Department of Athletics and Law School.
"Matt's education, experience and passion for helping student-athletes become leaders through the transformative power of a Saint Xavier education made him a top candidate in this search. His background, including his degrees in sports administration and law; his extensive intercollegiate athletic, coaching and administrative experience; his proven stewardship and fundraising success; and his strategic planning background positions him as a capable leader with the potential to make numerous important contributions to SXU," said President Laurie M. Joyner.
"I am thankful to Dr. Joyner and the search committee for this opportunity," added Cunningham. "I look forward to fostering a performance-based culture built on a commitment to excellence, collaboration, respectfulness and inclusivity. I am anxious to start working with student-athletes, coaches, staff and senior leadership colleagues to set and achieve goals that strengthen the department and positively contribute to the life of the University."
Cunningham graduated from Wayne State University, where he earned multiple degrees, including a bachelor's degree in public relations, a master's degree in sports administration and a Juris Doctor.
Cunningham earned the UM-Dearborn Athletics Staff Excellence Award, is an NAIA Campus Character Liaison and received numerous honors from Wayne State University during his time as a student.
---