SXU Staff Alison Chandler Selected as CLAVE Doctoral Fellow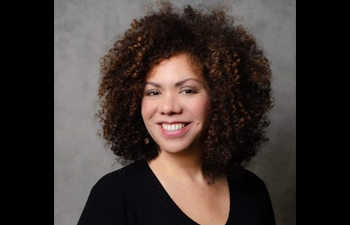 Saint Xavier University (SXU) staff member Alison Chandler has been selected as a CLAVE doctoral fellow by the Centro de Excelencia at National Louis University. Chandler, who serves as AVP for Strategic Enrollment Management and Student Success at SXU, is one of nine doctoral students selected for the fellowship program, designed to develop a network of promising Latinx and BIPOC doctoral scholars.
"It is quite an honor for me to have been selected for this program. As a BIPOC doctoral student, I'm so appreciative that programs like this exist to provide additional resources and support," said Chandler.
The fellowship is a two-year program that provides critical mentoring support. During Chandler's first term in the fellowship, she and her peers participated in monthly meetings to connect, build community, problem solve, share resources and support one another. They discussed issues such as adjusting to life as Latinx and BIPOC doctoral students, created personal and professional logic models to establish goals and outcomes, attended workshops on networking and identifying social capital and participated in doctoral writing workshops.
"The program offers writing support groups to encourage peer-to-peer feedback and accountability. In future terms, we will have dissertation writing support with our specialist and we'll work with our mentors to prepare to teach graduate-level courses and collaborate with faculty on research projects, plus participate in research activities that go beyond our dissertation topics," said Chandler.
Chandler has been in higher education for over 15 years but decided to pursue a doctoral degree because she felt she had more to learn. Her higher education leadership doctoral program utilizes an executive cohort practitioner-based model, where she learns about historical and contemporary issues in higher education, leadership and governance, strategic enrollment management, organizational effectiveness, student development, curriculum and assessment, finance, legal concerns and research within higher education.
"The program is helping me to better position myself as a well-rounded thought leader who can influence policies and practices. My goal is to further put into action programs and services that best support our students, with a particular focus on racially or ethnically minoritized and first-generation students. I'm particularly interested in studying the effects of negative racialized experiences on feelings of impostor phenomenon and how they impact college persistence rates of Black female students," said Chandler.
Chandler has a bachelor's degree in sociology from Spelman College, a master's degree in educational psychology and counselor education from Tennessee Tech University and a master's degree in academic advising from Kansas State University. Before coming to SXU, she served as an academic advisor and advanced to administrative roles, serving as director of advising for the UNLV College of Education and director of education administration at the Chicago Psychoanalytic Institute.
Chandler is juggling being a mother to three, newlywed, full-time professional and doctoral student, as well as an adjunct professor and SUCCESS Coach at SXU. Despite the busyness of her life, she feels fulfilled and finds that applying what she learns in the program to her professional role is very rewarding, and she's greatly enjoying her service to Saint Xavier.
"I've enjoyed the comradery with my colleagues. I've particularly appreciated the flexibility to be able to bring fresh perspectives, to think outside the box and to try things a little differently. The SXU mission reminds me each day that we are first and foremost here to serve the needs of our students. We operate at our best when we can bring our unique talents and experiences to the table, treat each other with respect and compassion and come together as a collective unit to work toward a common goal," said Chandler.
In the future, Chandler plans to continue investing time in researching various student success models and collaborating with colleagues in strategic enrollment management and student success to integrate plans into a coordinated student experience.
"Beginning with recruitment and admission, continuing through the SXU Experience and onto post-graduation, the goal is to foster a mission-driven, supportive and enriching environment for students that along with getting a top-notch education will prepare them for life, leadership, responsible citizenship and their future careers," said Chandler.
---