SXU Student Angela Sarlas Named Student Laureate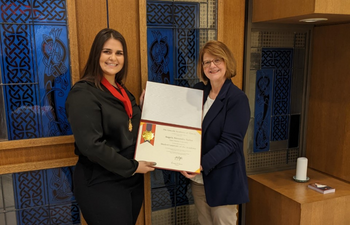 Saint Xavier University (SXU) nursing student Angela Sarlas has been recognized as a Student Laureate by the Lincoln Academy of Illinois. Each year, an outstanding senior from each of the state's four-year degree-granting colleges and universities is awarded the Abraham Lincoln Civic Engagement Award and thereby becomes a Student Laureate. Student Laureates are honored for their leadership and service and are reflective of the diverse populace of the State of Illinois.
"Becoming a student laureate and joining the prestigious group of individuals that are named Lincoln Laureates is an immeasurable honor – I'm unable to describe the feeling of gratitude I have. Abraham Lincoln is remembered for his persistence, unwavering optimism and natural ability to lead others. Being recognized in the spirit of Lincoln is a privilege and shows that my efforts to make a positive impact are steps in the right direction," said Sarlas.
To Sarlas, civic engagement and the betterment of humanity are two concepts that encompass everything she hopes to do in her lifetime – caring about a cause greater than oneself.
"There is a word in the Greek language, 'filotimo,' which is what fuels us to work each day for a better tomorrow not only for ourselves, but more importantly, for others. There is no word in the English language that blends this sense of individual purpose with the idea that each individual's mission is to work toward a greater, common good - the betterment of humanity. Filotimo is a word that cannot be reproduced by the system, yet it is the word upon which the system relies in its darkest hour. It is my hope that through my service to others, I can help to restore this sense of filotimo in humanity again," said Sarlas.
Sarlas has always admired leaders who have humility, courage and the ability to stick up for others, which are the qualities she works each day to embody.
"It takes humility to know that I can only be as strong as the team I am part of, courage to stick up for what is right and inspiration to keep going, even when things become difficult. I believe there is power in numbers and that greater progress can be made when we work in teams," said Sarlas.
Sarlas feels that SXU is preparing her well for the future. She's taken classes in sociology, statistics, communication and art, which she feels have helped her become a more well-rounded individual who thinks critically, appreciates the world around her, carries compassion for others and is not afraid to speak out against injustices.
"My nursing classes have taught me that nursing is a profession that goes beyond hospital walls. In addition to learning all the concepts it takes to clinically take care of patients, I've also learned the power a nurse's voice has and how important it is for nurses to advocate, innovate and empower," said Sarlas.
Sarlas keeps in mind one particular Abraham Lincoln quote in her journey: "Give me six hours to chop down a tree and I will spend the first four sharpening the ax."
"The past four years at Saint Xavier have allowed me to sharpen the vision I have of the life ahead of me, giving me hope that the next chapter will be one I am proud of and that inspires others to pursue their own passions in hopes of leaving their mark. The faculty, staff and students at SXU have shown me that through service, compassion and education, I, in the spirit of Lincoln, can make a difference and leave the world a better place than I found it," said Sarlas.
Sarlas is the vice president of communication for the Student Government Association (SGA) and a member of the Student Nurses Association (SNA). She is grateful for the time she has spent at SXU and will make it her vocation to carry out the Mercy mission.
In the future, Sarlas plans to apply all she learned at Saint Xavier in law school, where she will study public policy and foreign affairs. She'd like to take both her medical and legal backgrounds to pursue a career with the United Nations, where she plans to make it her life's work to advocate for positive change in education, health care and equality to eliminate injustices.
"I believe that the solution to the world's problems are out there, and once we become a society that recognizes that, we can discover and use those solutions."
---