SXU Thankful for Opportunity to Live in Mercy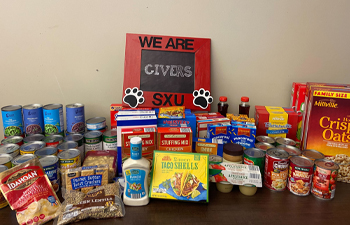 During the season of Thanksgiving, the Saint Xavier University (SXU) community is reflecting with gratitude for the mission stewarded by our founding Sisters of Mercy in 1846. This year, the community has worked tirelessly to propel forward the mission of service and compassion through a variety of service projects intended to advance the genuine well-being of others.
In January, the community participated in the Change for Change fundraiser (donating loose change to purchase food for those in need), Compassionate Cougars (making care packages for older adults experiencing food insecurity), Painting Mercy Circle With Kindness (creating small gifts and token for the residents at Mercy Circle) and made sandwiches to benefit the Port Ministries Bread Truck.
In February, the community donated blood to the American Red Cross blood drive, participated in Made With Love (making blankets for donation and NICU hearts and cards for a children's hospital), and created Valentine's cards for children.
March brought a myriad of service opportunities with the inaugural Week of Service, where the community participated in service initiatives tied closely to the critical concerns of the Sisters of Mercy, with opportunities to provide support at the University and external organizations, including Lake Katherine Nature Center and Botanic Gardens, Port Ministries, Ronald McDonald House, Mosque Foundation Food Pantry, Arab-American Family Services, Greater Chicago Food Depository and La Rabida Children's Hospital.
In April, the community collected bed and bath items for the residents of Constance Morris House, a shelter for survivors of domestic abuse, and made first aid kits for Margaret's Village, a transitional shelter for women and families.
When students returned from summer break, they started the fall semester off strong in August with the inaugural Service Day for first-year students, who participated in a service project as part of their transitions course. Students had the opportunity to engage in more than one activity while also learning about the importance of why they are undertaking the work, connecting to SXU's Mercy mission with opportunities for on-site work for the Ronald McDonald House and Champ's Kitchen, campus cleanup, creation of cards for children at La Rabida Hospital, and creation of cards and letters for residents at Mercy Circle.
In September, the community donated blood to the American Red Cross blood drive and teamed up with SWADDLE (Southwest Area Diaper Depository for Little Ends) to repackage diapers for families in need, repackaging a total of 30,000 diapers.
In October, the Student Activities Board (SAB) made inspirational charm bracelets for breast cancer survivors. The Green Movement and Political Science Forum held a clothing drive and students made signs to hang around campus to remind the community of the core value respect.
In November, students participated in Make 'N Thanks, where they brought food donations for Champ's Kitchen. The Green Movement held Wands for Wildlife, where they collected old mascara wands, which help to remove fly eggs and larva from the fur of animals. University Relations held their annual Thanksgiving food drive, where they collected non-perishable items for a local shelter.
In December, Service Club and the American Red Cross Club will host Holidays for Heroes, where the community members can make holiday cards to thank members of the military, veterans and their families.
In working together to keep our mission and community thriving, Saint Xavier faculty, staff and students have found much to be thankful for this year and look forward to perpetuating the mission for years to come.
---