SXU to Celebrate First-Generation Week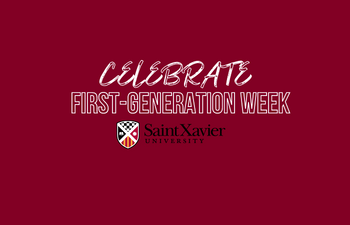 For the first time, Saint Xavier University (SXU) will celebrate First-Generation Week! Beginning November 8, First-Generation Day, the entire community, along with alumni and first-generation allies, are invited to attend a series of events in celebration.
A first-generation student: is considered the first in their immediate family to attend college; has parents who have completed some college but did not graduate; or self-identifies as not possessing prior knowledge or exposure to higher education institutions.
"Our goal in celebrating this week is to establish a supportive community by creating programs and services aimed at first-generation students and providing opportunities for academic and personal success for all our first-generation students on campus," said Nancy Ortiz-Romero, director of Student Support.
All are invited to attend the week's events.
On Monday, November 7, the First-Generation Experiences Panel will be held in McGuire Hall from 1 to 2:30 p.m.
On Tuesday, November 8, the First-Generation Pep Rally will be held in the Fourth Floor Boardroom from noon to 2 p.m.
On Wednesday, November 9, Generation SUCCESS will be held in the Butler Reception Room from 5 to 7 p.m.
All week long, students can display their first-generation pride with a first-gen T-shirt, sponsored by Alumni Relations, and a first-gen button. Both will be available at each event with a limit of one each per person.
The First-Generation Committee was created this year with the help of the academic support coaches. Into the future, the committee will be expanded to welcome students and student organizations to offer a voice to future initiatives.
"First-Generation Week is here to stay. We celebrate students' accomplishments despite the many obstacles first-generation students can encounter. You're not alone. We can make it happen!" said Ortiz-Romero.
Visit the SXU Calendar for more details about First-Generation Week events.
---