SXU to Host Annual Homecoming Celebration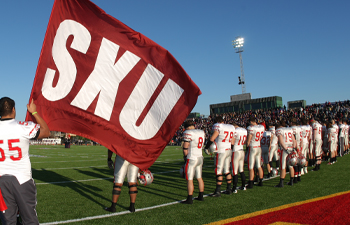 Saint Xavier University (SXU) will host its annual Homecoming celebration with a variety of fun events for faculty, staff, students and friends beginning Monday, September 26. The week will culminate on Saturday, October 1, as the SXU Cougars take on Roosevelt University for the Homecoming football game.
Spirit Week will kick off the festivities, and students can show their Cougar pride in a variety of ways, including at Monday Madness Bowling Night, where students can join peers for a night of fun at Arena Lanes in Oak Lawn from 9 to 11 p.m. on Monday, September 26.
Tuesday, September 27 is Cougar Olympics from 3 to 6 p.m. on the Schmitt Quad. Students will have the opportunity to participate in field day sports such as tug-of war, sack race and more!
DIY Day is Wednesday, September 28 from 11 a.m. to 1 p.m. in the Wiseman Student Lounge. Students will create fun and exciting school spirit posters, foam fingers, and pom-poms to display at the football game. Also on Wednesday is Fiesta de la Familia, where students and families can hear from SXU President Laurie M. Joyner, engage with faulty and staff, play lotería and enjoy food trucks and fun! The event will be held from 5 to 7 p.m. outside the Warde Academic Center (WAC). Pre-registration is required.
The Sound of SXU is Thursday, September 29 from 2 to 4 p.m. in McGuire Hall. Students can show off their singing and dancing skills for a fun afternoon of karaoke! There will also be a special alumni event in the evening, the National Hispanic Heritage Month Alumni Celebration. Alumni can join in an event celebrating the cultures and traditions of Latinx alums and students at Unidad - A Latin Kitchen and Bar in Evergreen Park from 6 to 9 p.m. Admission is $35 (21+) and includes food and drinks. Online registration is available.
Friday, September 30 is the Cougar Cruise, held from 6 to 7:30 p.m. in Parking Lot 2. Registered student organizations, student-athletes, and the SXU Band will participate in a cruise around campus for a University parade. Later, the annual Homecoming Bonfire will be held on the Schmitt Quad from 8 to 9:30 p.m., where students will enjoy free giveaways and an evening with friends.
The annual Homecoming football game is October 1 at noon on the Bruce R. Deaton Memorial Field. Alumni are invited to join the Homecoming tailgate tent and enjoy food and drinks on the sideline. Interested alumni should register online and early-bird registrants will receive a commemorative Homecoming T-shirt while supplies last! Later, students can have a blast at Party the Night Away from 6 to 10 p.m. in the Butler Reception Room, where there will be music, dancing and memories made.
Visit the SXU calendar for more information on Homecoming. We can't wait to show our Cougar pride with you
---