SXU to Host Night of Middle Eastern Music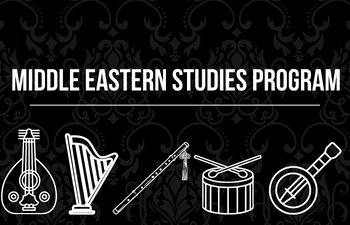 Saint Xavier University (SXU) will host a night of Middle Eastern music in conjunction with the Old Town School of Folk Music on Friday, October 7, at 7 p.m. in McGuire Hall. The event will feature the musical stylings of the Chicago Immigrant Orchestra and the East Loop Ensemble.
The concert is presented by SXU's Middle Eastern Studies program, which works to provide cultural experiences linked to the Middle East and North Africa (MENA) region. The Old Town School of Folk Music teaches and celebrates music and cultural expressions rooted in the traditions of diverse American and global communities.
"This night of music brings to the South Side of Chicago a unique and rich musical experience. It combines two of the most renowned Middle Eastern and world music ensembles in Chicago, who will bring us rich culture, skill, passion and rhythm," said Iman Saca, Ph.D., director of the Middle Eastern Studies program.
The Chicago Immigrant Orchestra was first established in 1999. The project lasted through 2004 but was restarted in 2019 by guitarist Fareed Haque and oud player Wanees Zarour. The new orchestra today is a 20-piece ensemble that consists of members of the Chicago immigrant community who represent musical traditions from all over the world. The East Loop is an instrumental music ensemble that combines jazz, funk, rock, blues and Maqam and stands at the intersection of African American, Middle Eastern and South American music.
Before the concert, guests can attend a pre-concert demo at 5:30 p.m. in the Butler Reception Room. The demo will provide the opportunity for the community to interact with the composers and band members and will feature a short performance and conversation with the audience about instruments, blending styles and finding commonalities in vastly different traditions.
"Attendees will gain an introduction to different instruments and performance practices from all over the world and experience how these projects blend living musical traditions in a way that does not compromise but elevates each of these traditions," said Saca.
"There will be an emphasis on authenticity and historicity, with a process through which each tradition brings its sound to the overall mix organically, resulting in a powerful performance that demonstrates the sum of these deeply rooted traditions and creates a dazzling kaleidoscope of colors, dynamics, interactions and dialogues. We hope this will be the beginning of many more events coordinated with the Old Town School of Folk Music," Saca continued.
The concert is free and all are invited to attend. For questions about the event, contact Saca at 773-298-3554 or sacaFREESXU. To learn more about the Middle Eastern Studies program, visit the SXU webpage.
---