SXU to Host Summer Camps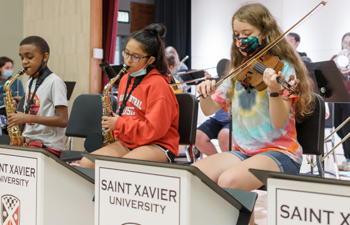 Saint Xavier University (SXU) summer camps have returned for the 2022 season. This year, students can participate in the Student Media Summer Camp in June and the SXU-Southside Summer Jazz Camp in July.
The Student Media Summer Camp offers a weeklong session in radio broadcasting and will take place June 27 through July 1 from 10 a.m. to 3 p.m. each day. Camp is open to all incoming high school freshman through graduating seniors. Students will gain the skills needed to create dynamic, engaging content that will help them connect to an audience and get a head start to a future in radio broadcasting. After completing the camp, students will be able to describe and identify radio broadcasting terminology; develop radio broadcasting skills; identify ethical concerns in broadcasting; and produce original on-air programming.
"The radio summer camp allows students the opportunity to find their voice, become part of a team, and bond through some great music. I'm so excited that this camp is back! I'm looking forward to meeting everyone and creating some incredible programming that can only be heard on college radio," said Peter Kreten, director of Student Media.
The SXU-Southside Summer Jazz Camp offers a weeklong session in jazz and will take place July 18 through July 22 from 3 to 7 p.m. each day. Camp is open to students in sixth grade through 12th grade. Students will have an opportunity to work with SXU jazz educators who will help students gain confidence; improve on their musical abilities; nurture a love for jazz; and participate in daily rehearsals on jazz repertoire, instrumental sectionals, improvisation master-classes, jam sessions, guest concerts and music theory workshops.
"We are excited to welcome students back to SXU for this year's SXU-Southside Summer Jazz Camp! We have a mission to help students of all levels grow as musicians and artists, teaching them the rich traditions, creativity and artistry of jazz while helping them to see just how important their voices are in developing new traditions. We truly believe everyone is creative and this camp is the place to help your creativity flourish!" said Shawn Salmon, D.A., director of Jazz Studies.
SXU will continue to follow all state and city-mandated COVID-19 guidelines to protect the health and safety of the community.
For more information, visit www.sxu.edu, keyword: summer camps. Register online for the Student Media Summer Camp and the SXU-Southside Summer Jazz Camp.
---