SXU to Host "The Walk of the Immigrants"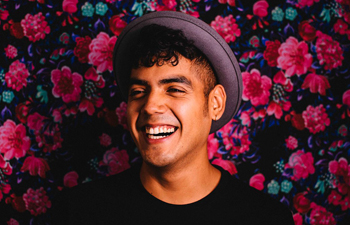 Flores
As part of their Latinx Heritage Month celebration, Saint Xavier University (SXU) will host a CAMPUSSPEAK event, "The Walk of the Immigrants," featuring guest speaker Saul Flores, a Mexican-Salvadoran storyteller who has spoken at over 100 colleges and universities. Flores, who walked 5,328 miles through 10 countries to document the grueling danger immigrants can experience along their journeys to the United States, will share the story of his journey along with a series of photographs that capture the essence of the people, communities and cultures he encountered along the way.
Imelda Macias, Ed.D., Title V Grants project director, was inspired to bring Flores to SXU for this year's Latinx Heritage Month because she believes he has a story the entire SXU community could learn from. During Flores's 5,328-mile walk, he earned money for an elementary school in his mother's hometown of Atencingo, Mexico.
"As a Mercy institution, we are bound to the critical concerns that our Sisters of Mercy are committed to address – immigration being one of them. Saul's journey will provide us all with a deeper understanding of the hardships, joy and hope that immigrants experience, not only on the trudge from their home countries, but also in immigrant communities in the U.S. There's great value in learning about different cultures and about the human experience as seen through the lens of others, especially at an institution as diverse as SXU," said Macias.
In his story, Flores will also share the importance of service and giving back to communities through service-learning initiatives and humanitarian projects, which perfectly tie into SXU's mission and core values. Flores seeks to inspire students to make a positive impact in the world and demonstrate how to connect passion with purpose – the essence of being a 'doer.'
"First-generation students will easily identify with Saul and witness how he continuously makes a difference through perseverance and with the knowledge and solid foundation that an education provides. It is imperative that students see themselves in others who have excelled - to draw strength, be motivated and be proud. What better way to celebrate Latinx Heritage Month?" said Macias.
The event will take place in McGuire Hall on Wednesday, October 12, at noon. Those who are not able to join in person can watch the event via Zoom. RSVP on The Den to learn more.
---