SXU Welcomes Natalie Page as Inaugural Chief Diversity Officer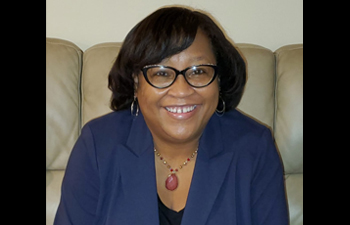 Saint Xavier University (SXU) proudly welcomes Natalie Page, Ed.D., as inaugural chief diversity officer (CDO). In her role, Page will facilitate the Office of Diversity, Equity and Inclusion as a hub that champions, organizes and ensures diversity, equity and inclusion (DEI) among the University community.
"My goal is to create a culture of inclusive excellence throughout SXU," said Page, who has worked in higher education for nearly 25 years. "This is an institutional responsibility that requires collaboration. The role has many tentacles, but the most important focus is to create a strong campus climate of belonging while advancing the Saint Xavier mission and strategic plan to ensure access and student success."
Having served as an adjunct instructor, tenured professor, dean, and vice president of academic affairs before coming to SXU, Page is thrilled to utilize the culmination of what she enjoyed in her previous roles to now promote cross culturalism, validation and engagement at SXU.
Page, who has a doctorate in higher education leadership, has been championing multiculturalism and functional knowledge for years, consistently carrying with her a passion to make the playing field level for all. As a first-generation student, she understands the significance education has in changing a person's life trajectory. She also knows firsthand the benefit of having supportive faculty and staff alongside her to help navigate the college landscape. From creating an organization that works with minority female students and consulting on cultural competency to starting a course on Latinx history, she's always made sure DEI was at the center of everything, and she looks forward to encouraging and promoting a culture of equity at SXU in a role that she believes represents her life coming full-circle.
It was through a major life reflection and a desire for meaningfulness in her career that would enhance her providential thread of DEI work that Page came across the opportunity with Saint Xavier. She was immediately drawn to the University's mission.
"What attracted me to SXU was the mission. When it comes to social justice and equality, it was and is embedded in who the University is on a foundational level. Getting an opportunity to meet the students and learning that this position was spearheaded by them made me really excited. I am intrigued and thrilled to work with students who are so committed and want to see themselves reflected in diversity, equity, inclusion and belonging work – the key is to make this actionable and real to their experiences as SXU students," said Page.
Page feels a deep connection to the Sisters of Mercy, who she calls trailblazers when it comes to equity and inclusion. Their rich heritage, along with the University's core values, will serve as the lens through which she makes many of her DEI decisions.
"I want to embrace and promote the good DEI work and programs that already exist, but also encourage growth by creating a culture that promotes belonging and inclusion among everyone who works and is a student here," said Page.
Page looks forward to leading DEI initiatives in her work at Saint Xavier, including conferences, roundtables, trainings, Q&A sessions, continuing the University's Illinois Equity in Attainment Initiative (ILEA) work, and providing a safe space where students can share ways to become an even stronger community. She also plans to analyze data to better understand how SXU students can persist to graduation and continue on an upward track of success.
"Talking meaningfully about topics related to DEI can be tough, but it requires that everyone be willing to recognize biases and be open-minded and intentional to grow in our understanding of others. I'm hoping to be a change agent, and I'm excited to be part of the Saint Xavier University family."
---