SXU Welcomes Saib Othman as Provost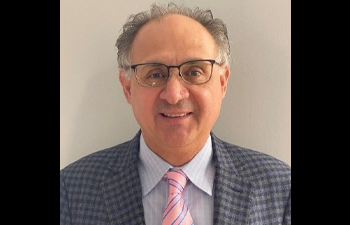 Saint Xavier University (SXU) proudly welcomes Saib Othman, Ph.D., as provost beginning August 1, 2022. Othman brings to SXU a robust record of academic achievements and 20 years of experience in higher education. In his new role, he plans to make student-centered decisions to ensure the student experience is fulfilling, transformational and a worthwhile investment.
"Saint Xavier is a university on the rise with a reputation of academic excellence and unwavering commitment to students. As chief academic officer, I will partner with the SXU Board of Trustees, administration, faculty and staff to continue SXU's legacy of academic excellence, manage challenges, optimize the portfolio of academic programs so it is mission-driven and market-aligned, and facilitate student leadership and success," said Othman.
Othman earned both his Ph.D. and M.S. in mathematics from the University of Iowa and his B.S. in mathematics and physics from the United Arab Emirates University. Dr. Othman currently serves as provost at National Louis University in Chicago. He served as associate provost at Marian University-Indianapolis and dean of the College of Arts and Sciences/Graduate and Adult Studies at Aurora University, where he also sat on the Faculty Advisory Council to the Illinois Board of Higher Education.
Well-versed in the challenges facing higher education, Othman is an accomplished academic leader and is committed to SXU's Mercy mission and strategic vision.
"I appreciate the Mercy mission and Catholic philosophy of educating the whole person -- mind, body and spirit. It is critical to graduate competent professionals with outstanding technical skills in addition to teaching them the value of ethical conduct and personal responsibility so they are prepared to do good in the world," said Othman. "I grew up with values and traditions that align with the heritage of the Sisters of Mercy and I deeply believe that valuing our basic humanity and respecting the dignity of all people sets the stage for social justice and peace."
Othman has a proven track record of transformative actions that have strengthened his institutions. He is skilled in strategic planning, curricular development and assessment, as well as hiring and retaining talented and diverse faculty. A mentor of underrepresented leaders, he is committed to diversity, equity and inclusion in the higher education setting and seeks to strengthen relationships with community organizations.
"I look forward to Dr. Othman joining our Senior Leadership Team and am confident he will be a valuable asset to the University as we continue to focus on strategic priorities surrounding mission integration, educational quality, student success and financial sustainability," said President Laurie M. Joyner, Ph.D.
---