Join SXU for We Are SXU Day March 22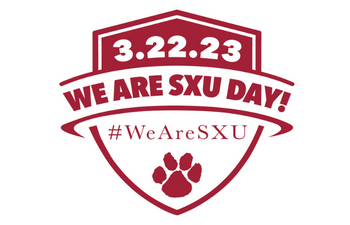 Saint Xavier University's (SXU) annual day of giving – We Are SXU Day – will be celebrated Wednesday, March 22. Each year, the celebration is held in conjunction with Mission Day, a day that spotlights the University's core values of service, excellence, hospitality and integrity. Last year, SXU met its goal of reaching 750 donors – and we're ready to do it again this year!
Members of the SXU community, alumni, and friends are invited to join in the celebration with a variety of events on We Are SXU Day. All day long, participants can go on an adventure with an SXU-themed scavenger hunt, posting selfies to their social media accounts with as many treasures as they can find. Winners will receive great prizes!
At noon, all are invited to the Mission Day liturgy in McDonough Chapel. After, there will be a campus-wide group photo and ice cream social on the front steps of the Warde Academic Center at 1 p.m. At 3 p.m., the Mission Day Awards ceremony will be held in the Butler Reception Room and honor individuals who exemplify SXU's core values. A We Are SXU Day reception will be held at 4:30 p.m. at Gilhooley's, where attendees can enjoy complimentary food, beverages and live music.
We Are SXU Day is a 24-hour, participation-driven effort. Donors don't have to wait until March 23 to make their gift, either. You can make a donation now!
Every gift, no matter the size, impacts the University -- your generosity can help to provide life-changing scholarships, create new internship and networking opportunities, organize mission and service trips and design new spaces across campus that enhance student knowledge and success.
SXU calls its entire community, including alumni and friends, to participate in We Are SXU Day. In addition to donations, we are calling on alumni and friends to take their SXU pride viral by sharing how SXU made an impact using the hashtag #WeAreSXU and sharing photos on social media. A social media toolkit can be found on the We Are SXU Day webpage, which includes We Are SXU Day graphics. Put on your scarlet and gray and unite with Cougars across the world for this very momentous occasion. Let's come together to show our Cougar pride and show the world what a difference a day makes!
---