Living in Gratitude this Thanksgiving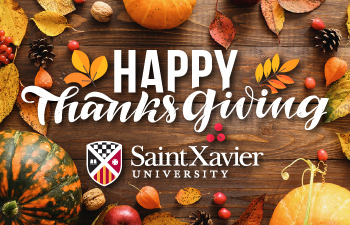 Saint Xavier University (SXU) is filled with gratitude as faculty, staff and students come together to celebrate Thanksgiving. There are so many reasons to be thankful. This year, SXU welcomed its new interim president, Rebecca Sherrick, Ph.D., who is hard at work enacting positive change throughout the campus, and the University has been abundantly blessed in welcoming the largest incoming freshman class in the history of Saint Xavier.
The University is also grateful for the mission stewarded by our founding Sisters of Mercy in 1846, a mission of service and compassion toward one another that propels us forward today. This Thanksgiving, departments all across campus held numerous service projects, including collection of non-perishable goods, toiletries and care package items to help community members in need.
In working together to keep our mission and community thriving, Saint Xavier faculty, staff and students have found much to be thankful for.
"I am thankful that I am part of a community who cares so deeply for one another. My colleagues are so willing to lend a helping hand and I'm grateful for their generosity and caring compassion."
"I'm grateful for professors who go the extra mile in helping me to succeed. From providing me with extensive feedback to giving me the encouragement I need to be confident in my work, the faculty at SXU are dedicated to student success."
"I'm thankful for the family I'm surrounded with and thankful for the time I got with loved ones who have passed. I miss them every day but am thankful for the spirit they've instilled in me and I celebrate them every day."
"We've seen a lot of tragedy in the world this year, and as I pray for change and peace, I am thankful to be surrounded by family and friends who uplift me through the dark times."
"I'm thankful to study on such a beautiful campus – Lake Marion is so peaceful, and the flowers in summer and leaves in the fall are just stunning! Plus, I always feel safe here. It's like home."
"I'm thankful to have stepped out of my comfort zone and join an RSO this year. I've already gotten to participate in several networking opportunities and I know this will look great on my resume. Plus, I've gotten really close to someone I now call a friend."
"I'm grateful for the arts. Music, painting, writing, and dancing are so soul-soothing for me. I've gone on so many journeys through the arts this year."
"I'm grateful to work at an institution that puts such an emphasis on service. I can feel the history and legacy of the Sisters of Mercy as I walk through the halls. I'm proud to carry on a mission that has been in action for 177 years."
As you reflect on your blessings this season of thanksgiving, the Saint Xavier community wishes you peace and tranquility.
---