Mission-Focused SXU Alum Nominated for Man of the Year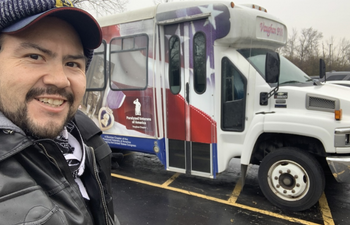 If there's one thing Saint Xavier University (SXU) alum Ramón Esparza '98 took from his time at SXU, it's a love for the Mercy mission – and now he's on a mission to serve his communities and teach others to do the same. Recently nominated for Blue Island Man of the Year, Esparza is all about influencing the world toward betterment.
Esparza was drawn to study communication because he enjoyed connecting with people one-on-one and building a foundation to be able to tell a story. While at SXU, he was very involved in journalism efforts, serving as a writer for The Xavierite. He also had an internship with the University's marketing department. Later, he'd serve as a features writer for the Star newspaper.
"At SXU, I got to do real investigative reporting. I learned how to be neutral and fair. I also learned that rather than try to reinvent the wheel, you can find a way to improve it," said Esparza.
Esparza was also part of the brand-new music program at Saint Xavier and has been immersed in music all his life. After graduating, he worked at a music store, eventually getting to the operations level. He's traveled with bands and mentored other musicians, and he still plays saxophone in a ska band, Malafacha, to this day.
Esparza's life changed after suffering some serious health issues that required hospitalization. He leaned on an old friend from SXU, who opened his eyes to the opportunities for change - both in health and spirituality. His friend helped him to draw out caring, kindness, compassion, and vulnerability, inspiring him to want to reach out and do more for others. Esparza was featured on the TLC show "My Feet Are Killing Me" about his extreme case of lymphedema, where he used his voice to spread awareness. He tries to be an advocate for those who are diagnosed with lymphedema and for those struggling with extreme/severe weight loss.
He began working for Paralyzed Veterans of America, Vaughan Chapter, driving a mobility bus to take veterans around to activities. He found the experience eye-opening and was inspired by the veterans' determination. He finds that it's an honor to help people. He also does well-being checks for the elderly and brings his son along to help with chores, like sweeping porches, and he loves to go to local businesses in Blue Island and leave them positive reviews, helping to attract new customers.
Esparza has plenty of fond memories from his time at SXU, especially performing music in the chorus, choir, jazz band, and more. He also got to meet people from all over the world, as Regina Hall housed the international students. He was very involved on campus and his role at The Xavierite allowed him to take part in multiple cultural and social clubs and organizations. Esparza is still involved in alumni events with the University today and is grateful for what he's learned and carries with him.
"Being part of the University is an experience that encapsulates heritage, tradition, excellence, and education. The one thing I'll always remember from my time at SXU is PIES – physical, intellectual, emotional and spiritual – which is the basis for understanding what it is to be a human and how to connect with others. At SXU, I learned to be open and honest, to say less and do more," said Esparza.
Esparza encourages all who've attended SXU to consider how they might connect what they studied to how they can impact the lives of others.
"The SXU community and the University are in a constant state of growth and change. If you put what you studied at the University out into the world and the people around you, you'll flourish beyond your degree title. It's not just a paper but something that is symbolic within your soul – and you can really use that to make your community better in so many different ways," said Esparza.
As Esparza looks to the future, he'd like to continue to evolve as a person and make every day the absolute best for those around him, opening his heart and mind to new experiences and always asking how he can do better.
---