Pride Month 2023: A Reflection on the Importance of DEI in Our World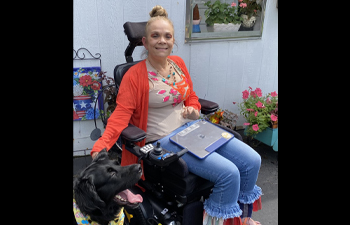 As Pride Month 2023 comes to a close, Saint Xavier University's Margaret Rose McDonnell, director of the Center for Accessibility Resources, shares her thoughts on the significance of diversity, equity and inclusion and the close connections between the LGBTQIA+ and disability communities.
"Happy Pride Month!
As I reflect on the importance of understanding and recognizing the impact of Pride Month on society and the greater world, I am also reminded of the close connections that the disability and LGBTQIA+ communities share.  It is a united journey empowered and supported by fostering acceptance, inclusivity and equity.  More importantly, these communities have both worked hard to overcome countless challenges and to achieve success by promoting environments including schools, workplaces and neighborhoods that embody respect and pave the way for each individual's voice to be heard.  

In my current position in higher education, I have a shared mission of removing barriers that try to define the human dignity of each person.  As the director of the Center for Accessibility Resources at Saint Xavier University, I direct procedures and best practices that help faculty, staff and students embody diversity, equity and inclusion.  These fundamental standards allow all individuals equal access to and fulfillment of their full potential while valuing their diversity, all of which inspires and motivates us to collaboratively serve as mentors and advocates to eliminate the negative, preconceived perceptions that continue to try to label and categorize us. I encourage the SXU community to stay educated on the importance of diversity, equity and inclusion during Pride Month.

June 25 was a significant day for me personally, as 43 years ago, I sustained a spinal cord injury at the young age of 14.  When this catastrophic event happened in 1980, there were hardly any laws that protected and promoted the inclusion of people with disabilities. For example, the Americans with Disabilities Act (ADA) was not enacted until 1990. As I reflect upon my experiences and upon Pride Month and the events that happened during the Stonewall Riots (also known as the Stonewall Uprising), I am struck by the importance of inclusivity. It is a time to celebrate the elimination of barriers and be mindful of which barriers still exist and which barriers are currently being implemented. Many states are enacting legislation that is harmful to people who are transgender. It is also important to be mindful of intersectionality that discriminates and plays out in the lives of people.

Even more relevant is the fact that one will never know nor be aware when someone they love will disclose their LGBTQIA+ identity or be diagnosed with a disability; thus, we must strive to always respect and understand the value of every person. I continue to be a strong ally and advocate for the statement "hate has no home in our society." Rather, we must all build relationships centered on compassion, integrity, mutual respect, and love. Without these values, I would not have become the educator I am today."
SXU's Safe Zone program promotes an inclusive and welcoming environment for LGBTQIA+ persons by educating allies on implicit bias, stereotypes, terminology related to sex, gender, sexual orientation, relationships and gender identity expression, as well as the privilege and limitations of oppression. To learn more, visit the Safe Zone webpage.
SXU's Center for Accessibility Resources is committed to working closely with staff and faculty in support of equal access, reasonable accommodations and academic assistance for students with documented disabilities. To learn more, visit the Center for Accessibility Resources web page.
---