SXU Alum Devotes Life to Mercy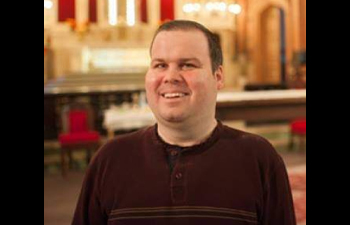 Saint Xavier University (SXU) alum Jim Bruton '06 has dedicated his life to living out the Mercy mission in various ways. From pastoral ministry to counseling, he's focused on engaging the world with empathy and curiosity to develop relationships that honor common human dignity and promote growth, empowerment, and strength in others.
Bruton graduated from SXU with a bachelor's degree in religious studies. He minored in sociology and pastoral ministry. Most of Bruton's work post-SXU has consisted of pastoral ministry. After completing graduate-level coursework at the Catholic Theological Union in Hyde Park, he returned to SXU to complete the graduate certificate in pastoral studies. In 2010, Bruton became the religious education coordinator and eventually the pastoral ministry coordinator at Holy Family Church on the Near West Side.
"Holy Family is a majestically beautiful church, the second oldest Catholic Church in Chicago, founded in 1857 by Fr. Arnold Damen, for whom 'Damen Avenue' is named. The parish was rich in racial and ethnic diversity and strong in spirit and community. I was proud to serve and be enriched by relationships there until 2020," said Bruton.
Bruton had been contemplating for some time about returning to school to pursue a master's degree and move into the counseling profession. He was accepted to Loyola University Chicago's Master of Social Work program and graduated last fall with a specialization in mental health and sub-specialization in group work.
Bruton has been drawn to counseling since he was in high school, as he's always enjoyed talking to people and is a good listener who people trusted. At SXU, he became heavily involved in Campus Ministry and was drawn to religious studies. But years later, during his work at Holy Family Church, he found those same personal characteristics coming back into play – parishioners often sought him out as someone to emphatically listen to them and offer supportive and encouraging feedback, and he found being trusted in this way very meaningful and fulfilling.
"I also began engaging in counseling to address personal challenges and have found it to be a very powerful experience of insight, growth, challenge and ongoing development. There is still a strong stigma around receiving mental health services and many people experience barriers to access due to costs, but I wish everyone could have the opportunity to experience a counseling relationship. It truly helps to illuminate our values, hopes and personal blind spots in a way that doesn't normally happen outside of that unique therapeutic space," said Bruton.
Ultimately, those different experiences led to his decision to purse a master's degree and become a mental health professional. Though technically a change in career, he brings with him many skills that were developed during his time in pastoral ministry, which when coupled with his new skills, provide him a deepening understanding of psychosocial theories and therapeutic approaches that feel more like an evolution than a change.
Bruton recently completed an internship with Misericordia, a place he has long admired. Since he was 14, he volunteered at his local parish with a religious education program for children with intellectual and developmental disabilities (I/DD), a population that's remained close to his heart throughout his life. Operated by the Sisters of Mercy under the auspices of the Archdiocese of Chicago, Misericordia is a residential community and continuum of care for people with mild to profound I/DD. Their services are designed to help residents live as independently as possible in the highest level of community integration feasible.
"My internship with Misericordia was one of the greatest experiences of my life. I received patient and generous guidance and support from my supervisors in the counseling department and provided individual counseling to residents. I had the opportunity to develop and lead several group experiences including promoting social and interpersonal skills, conflict resolution and healthy self-esteem. I was proud of the growth in confidence and skills I attained while interning at Misericordia, but even more so deeply moved by the resilience, courage, and commitment of the residents. The Mercy mission is foundational to both SXU and Misericordia. At the heart of the Mercy mission, pastoral ministry, and counseling is relationships – the common thread which connects my experiences as a student at SXU to my continued career and educational pursuits," said Bruton.
Bruton credits his ability to think critically with a broader perspective to his time at SXU, where the Mercy ethos taught him to engage the world with empathy and curiosity about the circumstances of others, always respecting and honoring common human dignity.
"At SXU, I developed the understanding that learning is a lifelong process that must be guided by humility and an openness to having our preconceptions challenged by the relationships we develop. The Mercy ethos has informed my view of relationships in my career and further academic pursuits as well as in my internship at Misericordia," said Bruton.
While a student at SXU, Bruton was heavily involved with Campus Ministry. He also served as president of the Service Club, peer minister, lector, eucharistic minister, and choir member, and he also took part in developing and implementing the Quest and Awakenings retreats. He found value in being supported and mentored by religious studies faculty during his time as a student, including Dr. Avis Clendenen, Dr. Michael Bathgate, Dr. Troy Martin, Dr. Kathleen Waller, Dr. Michael O'Keeffe, and Dr. Eileen Kearney. Bruton is forever grateful to the faculty, especially Dr. Clendenen, who continues to support him today, for recognizing his gifts and helping him to nurture them.
Bruton is currently pursuing a job in the counseling field and looks forward to providing individual and group counseling services to people with intellectual and developmental disabilities. He hopes to support people in coping with the various stressors and challenges of their lives by helping them to identify and celebrate their strengths, generate hope and envision new possibilities for themselves, and develop a sense of empowerment and increased self-efficacy.
---