SXU Alum Aims to Empower Families With Psychology Background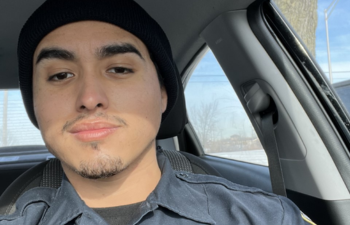 Saint Xavier University (SXU) alum Mario Gudino '21 has accepted a position as rehabilitation coordinator for the Illinois Department of Human Services.
Gudino works closely with migrants and their families with the aim of empowering them to make informed decisions and achieve complete community integration through employment, education and independent living opportunities with Erie Neighborhood House.
"This work has given me a deep understanding of the complex needs of migrants and the importance of providing comprehensive, integrated care to address these needs," said Gudino.
Gudino has always been drawn to the field of psychology, interested in breaking tradition by challenging the outdated and often harmful beliefs and practices that have been passed down through generations.
"By promoting emotional growth and self-awareness, psychology helps individuals to break free from the limitations imposed by their upbringing and societal norms, enabling them to lead more fulfilling and authentic lives. There is a deep sense of purpose in the knowledge that their work has the power to affect positive change on both a personal and societal level," said Gudino.
The coursework Gudino took at SXU combined with his professional experience has provided him with a solid foundation in the theories and principles of counseling. His prior work at Thrive DC allowed him to gain a deep appreciation for the significance of empathy and compassion in assisting others, and he gained a firsthand appreciation of the complex obstacles that individuals from vulnerable communities encounter, as well as the importance of providing holistic support that caters to their immediate needs and underlying concerns.
As a rehabilitation coordinator, Gudino has acquired several skills that are transferable to a counseling profession, such as efficiently scheduling appointments, maintaining precise electronic records and accounts, and providing clear communication. He finds those abilities are beneficial in handling client caseloads, maintaining accurate documentation of progress, and communicating effectively with other members of a client's support team.
While at SXU, Gudino, who was a Spanish and psychology double major, served as a student ambassador, which he believes brought him valuable leadership, communication and presentation skills. He was also a member of Psi Chi, the international psychology honor society. As a member, he had opportunities to network with other students interested in psychology and stay current on the latest research in the field.
Gudino has many fond memories from his time at SXU, including his involvement in Unidos, where he had the opportunity to plan and execute events that brought the SXU community together, as well as the mock quinceañera with Spanish faculty who served as his mentors and provided him with guidance and support throughout his academic journey.
As Gudino looks to the future, he is eager to pursue NEIU's clinical mental health counseling program. He believes that his experiences have equipped him to successfully tackle the challenges and opportunities presented by the program and he is excited to make a positive different in the lives of his clients and their families.
---