SXU Alum Named Principal of Evergreen Park Community High School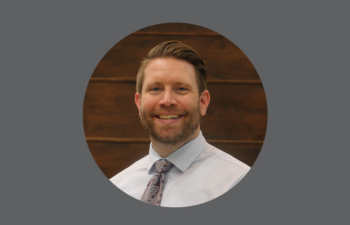 Saint Xavier University (SXU) alum Matt Dugan '08 has been named principal of Evergreen Park Community High School. Dugan is thrilled to lead and looks forward to Evergreen Park's bright future.
"It is such an honor and privilege to come back to the South Side and serve as the principal at Evergreen Park High School. I grew up close to the area [in Oak Lawn] and had friends and family who attended. I knew this was a great school from their experiences and stories. Now that I am the principal, I get to work here and help us continue to be an amazing school. I am really looking forward to working with the staff here and showcasing the great things our students are doing inside and outside of the classroom," said Dugan.
Dugan, who majored in social sciences and history with an endorsement in secondary education at SXU, found that it was no easy feat trying to get a job as a high school social studies teacher, so after graduating, he attended many job fairs, cold called schools, and filled out lots of job applications before landing his first job at Jane Addams Alternative High School in Pilsen. Jane Addams was part of a network of charter schools that served students aged 16 to 21 who had dropped out of or been asked to leave their previous schools. Dugan truly loved his time there and believed that his work helped him not only as a teacher, but as a future administrator.
"My students taught me that one of the most important aspects of education is that a teacher needs to form relationships with students to help guide them to success in the classroom," said Dugan.
While teaching at Jane Addams, he worked on a master's degree in administration at Concordia University. He later accepted a job at Hillcrest High School as a part-time administrator overseeing the freshman and sophomore tutoring centers and found the position helped him with analyzing data and implementing interventions for struggling students. For the next three years, he served as a dean and later assistant principal at El Cuarto Año/Association House High School. Dugan then served as dean at Morton East High School and assistant principal at Morton West High School before beginning his role of principal at Evergreen Park Community High School.
Dugan had been drawn to education since he was young. His mother was a teacher for 40 years and always inspired him with her work ethic and dedication to the profession.
"Seeing the impact she had on her students' lives is something I always found to be the most rewarding thing a person could want in a career. I went from teacher to administrator because I felt the level of impact you could have on a school increased with those roles, and I truly enjoyed helping to bring positive changes to schools for students, families and staff members," said Dugan.
Dugan appreciated his time at SXU and feels that it prepared him well for his career, in large part due to his professors, who helped him to understand the difference between completing an assignment and completing an assignment that was exemplary. To this day, he holds his work to those standards because of the high expectations SXU faculty set for students.
While at SXU, Dugan was on the football team. He loved being a part of the team and still keeps in touch with Coach [Mike] Feminis and many of the players. He has many fond memories from his time at the University, including meeting his wife, Stephanie [Galas] '10, which he says is the best thing that happened to him during his time at SXU – they're now married for 15 years with a two-year-old daughter, Avery.
Dugan is currently working on his doctorate in education at the University of Saint Francis and looks forward to his future at Evergreen Park Community High School.
---