SXU Alum Promoted to Police Commander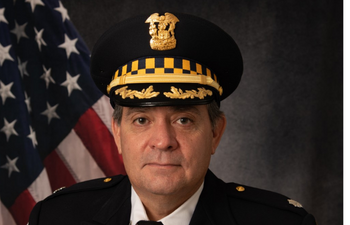 Saint Xavier University (SXU) alum John Spellman '94 has been promoted to Commander of the Bureau of Patrol by the Chicago Police Department (CPD).
Spellman majored in criminal justice while at Saint Xavier. He'd been raised by parents who instilled in him an obligation to give back to the community. He also wanted to follow in the footsteps of his sister, an '84 graduate of Saint Xavier who went on to be a deputy chief.
Spellman is grateful for his time at Saint Xavier, which prepared him well for the future.
"I really had some great instructors and advisors when I was at Saint Xavier. I had two professors who were sitting judges in Cook County – outstanding instructors. They brought real-world experience into the classroom and could really articulate what we needed to know to succeed. Their knowledge and enthusiasm is what peaked my interest in finishing my degree and becoming a police officer," said Spellman.
Spellman credits Sister Denis O'Grady for helping him to succeed.
"Sister Denis was a truly wonderful advisor. She understood the part-time night student and really worked with my schedule. She never steered me wrong and I never felt like a number with her. It felt like she really knew me," said Spellman.
SXU's mission resonated with Spellman, who has dedicated his life to service.
"Service to others should be a foundation of your character," said Spellman. "I feel tremendous responsibility for the community I serve and I value the responsibility I've been given as a Chicago police officer."
After graduating, Spellman immediately went to work for the Chicago Police Department and was assigned to the ninth district. In 2003, he was promoted to sergeant and worked for the third district's tactical team. He then transferred to the Bureau of International Affairs, confidential and general investigation sections. He became lieutenant before being promoted to commander. At each promotion, Spellman had to engage in month-long training.
In his new role, Spellman will ensure that officers in the field have the information, equipment and resources needed. He has some major goals for the role – to ensure his officers' professional well-being and mental health and continue to develop an advanced relationship with the community and residents they serve.
"Every encounter we have is important for forging the mutual respect and understanding of each other. We instill professional qualities in our officers on the first day of their training and we want to ensure they continue to pass that on to the communities they serve," said Spellman.
As Spellman continues to climb CPD ranks and excel in his roles, he's forever thankful that he got started at Saint Xavier.
"I really felt like the foundation Saint Xavier provided contributed to my success and happiness in life. I'm grateful for what I've learned there and continue to apply it today."
---