SXU Alumna Achieves Dreams of Becoming Writer as Local Journalist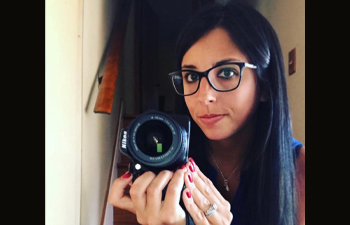 For Saint Xavier University (SXU) alumna Kelly White '07, the dream of becoming a writer began when she was just a little girl. Now, White's dreams are realized with her extensive work as a local journalist - and she's not done yet!
At SXU, White majored in communication with minors in English and writing. When she first became drawn to writing at a very young age, she knew that she not only wanted to write, but she wanted people to read what she wrote. White would write plays and small movie productions for her siblings to perform as well as greeting cards, neighborhood newspapers, poetry and books, including a chapter book series with twelve handwritten books in the sixth grade. Before coming to SXU, she attended Northern Illinois University on a full creative writing scholarship, but when she returned to be close to her family, choosing to study communication and writing at SXU was a natural choice for her.
"I love everything about writing and the writing process. I live and breathe everything about the media world. I wanted to make a difference, share the news and get to know my surrounding communities better, including the people in them. Everyone has a story, you just have to listen," said White.
White is grateful for the education she received at SXU, where she got to participate in real-world simulations and build obtainable goals. For her senior project, she wrote a book called "Radio Today," which focused on her internship with KISS FM. For the project, she interviewed some high-profile radio personalities who divulged in their media careers. While at SXU, White also wrote for the Xavierite.
White was motivated by SXU communication professors [Joel] Sternberg and [Renee] Robinson, who played a huge role in preparing her for success in journalism.
"During my senior year, these two pushed me harder, I felt, than most other students. Dr. Robinson once told me because I was such a strong student, she knew, without a doubt, that I would succeed in the journalism world. I'm very grateful to have studied under these mentors," said White.
After graduating, White applied to a number of media outlets and felt prepared to enter her career after her time working for the Xavierite and her internship with the radio station. During her career search, she earned a teaching certificate while working at a mortgage company and taught an introductory course on computers for students at St. Gerald School in Oak Lawn. During that time, she also took on a news correspondent position with The Reporter Newspaper/The Regional News based out of Palos Heights. Soon after, she became the news correspondent for the Hometown Hi-Lites and the Village View. After deciding to focus more on her media career, she was hired on as a news reporter for the Daily Southtown.
For 15 years, she has worked for the Reporter Newspaper/Regional News and writes news and feature stories. In addition, she reports for the Southwest News-Herald, the Southwest Chicago Post, and the Gazette Chicago. She is also a copyeditor for all of the 14 Southwest Messenger Press newspapers.
White will always remember how proud her parents and late grandmother were of her while she was a student at SXU, and she's thankful for her supportive family who always encouraged her to follow her dreams, especially her parents [Diane and Dennis White], her husband [Roger], and her loving daughters [Emerson Grace, Mila Paige, and Sawyer Jade], who were named based on writers.
In the future, White hopes to obtain a master's degree in journalism, eventually teaching journalism at the college level. She'd also like to spend some time working in public relations and eventually become an editor.
---