SXU Alumna Dedicates Life to Enacting Positive Change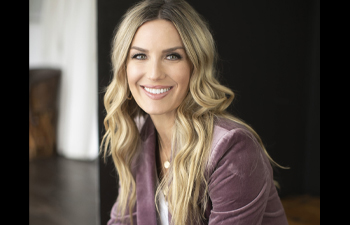 Saint Xavier University (SXU) alumna Jen Tadin '03 is in the business of changing lives. From her work in the insurance industry protecting small business owners across the world to her service on the board of a nonprofit organization educating the next generation of female leaders, Tadin is working to bring about positive change in the present and into the future.
After graduating from SXU, Tadin began her insurance career right away as an insurance producer for a Chicagoland insurance agency. After three years of work, the ambitious SXU alumna decided to continue her education as she knew she would need additional education to achieve the professional goals she had. She earned a master's degree in communication from Governors State University and also earned numerous professional certifications and licenses.
Currently, Tadin is the managing director of global small business practice for Arthur J. Gallagher, a Fortune 500 company whose mission is to provide superior and cost-effective risk management products and services to meet the ever-changing needs of clients. Tadin is responsible for the overall growth strategy, mergers and acquisitions, and delivery of revenue results. She also consults on global marketing, digital experience and sales execution strategies with a goal of driving exponential growth across the enterprise, focusing on the U.S., U.K., Canada, Australia and New Zealand geographies.
Tadin truly loves working for the third-largest insurance broker in the world and finds her career stimulating and fulfilling.
"The insurance industry is oftentimes looked at as boring or outdated, and that couldn't be further from the truth. It's full of opportunity for evolving career paths, making significant income, learning and growing," said Tadin. "I enjoy working with small business owners – they're the lifeblood of our communities and it's important for us to protect their livelihood."
Tadin's also very involved in advocating for women in the workplace and spends much of her time mentoring, coaching, speaking at women's conferences, and ensuring professionals are educated on how they can make the workplace more diverse and inclusive. Tadin also serves on the board of directors for a nonprofit called Female Strong, based in Chicago.
"The mission of Female Strong is to educate and raise the next generation of female leaders and entrepreneurs. We build programming for girls in grades sixth through 12th, when they're at a critical age range to ensure we're investing in them to increase their confidence and show them all of the possibilities their bright futures can hold. Our motto at Female Strong is, 'where girls can see what they can be.' This mission is near and dear to my heart. The best legacy we as professional women can leave in this world is to bring the next generation up behind us and continue to always leave the ladder down for them," said Tadin.
Tadin believes the value system she has in caring about community is rooted in the education she received at SXU. She's also grateful for the ways it prepared her for the future. Before she came to SXU, Tadin attended Columbia College to major in television production, but she quickly realized that while she found it interesting, it wasn't what she wanted to do as a career. SXU was an excellent choice for her to pursue her business degree.
"What I enjoyed most about SXU was the intimate class sizes. I was able to get a lot of one-on-one time with the professors and had a great time networking with peers. I really appreciated the curriculum, which gave me a lot of freedom to choose coursework that I found interesting. My professional success has been due in some part to the education I received at Saint Xavier," said Tadin.
Tadin plans to continue her work in the insurance industry, as she loves what she does and finds the work rewarding. She looks forward to continuing to help small businesses all over the world thrive and to empower female professionals and aspiring future female leaders to live their most intentional and authentic lives.
---