SXU Alumna Emulates Mentorship She Received at SXU With Students Today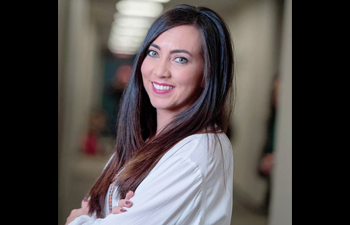 Saint Xavier University (SXU) alumna Toni Fitzpatrick '03, '06 is using the skills and support she gained from her time at SXU to lead her in delivering that same mentorship to students today.
Fitzpatrick, a first-generation Hispanic student, started her college career at Illinois State University. Though she was excited to be the first in her family to attend college, she was soon filled with self-doubt and felt as though she wasn't doing college "right." When she came home for the summer, her father, who had been delivering groceries and supplies to the SXU Diner for years, encouraged her to talk to Gomez, SXU's cook. There, she found what felt like home, and it wasn't long before she settled in at SXU to discover a community that would help her eradicate the self-doubt that had plagued her.
Fitzpatrick studied organizational communication and Spanish for her undergraduate degree. After graduating, she began work in advertising and sales but didn't find it to be fulfilling, so she decided to return to Saint Xavier for graduate school. She initially pursued business but changed direction to study education, as she realized that her career path had been in front of her all along and she could change lives the way hers had been changed serving as a mentor for students.
While earning her degree, Fitzpatrick served as a graduate assistant and Campus Life coordinator. After graduating, she served in a myriad of roles in higher education, starting as SXU's assistant director of residence education before beginning work at Columbia College as their assistant director of new student programs. She went on to serve as associate director of new student and family engagement at DePaul University for several years before she began her work at Lewis University, serving as director of academic services before she began her most recent role in July, assistant vice president for student success.
"In my position, I work to ensure students not only get access to Lewis but graduate from Lewis. We look at proactive and reactive ways to support students. This is such a meaningful position to me because of my own college experience [at SXU]. We have 12 success coaches who work with our undergraduate students from orientation through graduation. My ultimate goal is to see more of our students graduate," said Fitzpatrick.
Fitzpatrick credits her time at SXU for preparing her to give her students the same support she received and finds it rewarding to not only give back to her students every day but to lead her staff in being able to do the same, ultimately working toward changing the landscape of higher education.
"I always talk to my staff about empowering students. We need to help students see they have the strengths and skills to be college students and we provide them with a safe space and the resources they need to succeed. We talk about helping students to think things through on their own, helping them to make decisions but allowing them to experience the consequences of those choices for better or for worse. We believe they're capable," said Fitzpatrick.
Fitzpatrick is grateful for the mentors she had at SXU, including Katy Thompson, Keith O'Neill, Carrie Schade, and others.
"As a student, I felt cared for and like I was part of a community. The way my SXU mentors interacted with me, I had the sense they believed in me. I was a first-generation student and had a lot of self-doubt in college, but to have people around who believed in me and helped me to grow my strengths was major. They gave me the confidence I needed to make the most of college, participate in great opportunities, and make memories," said Fitzpatrick.
While at SXU, Fitzpatrick served as a student ambassador and resident assistant and was a member of the Residence Hall Association (RHA). She has plenty of fond memories from the meetings, program planning, and activities she participated in, which allowed her to find a sense of connection and belonging.
Fitzpatrick is considering going back to school to earn a doctorate as she's eager to get involved in research on supporting students.
---