SXU Alumna Finds Sweet Success with Oak Lawn Bakery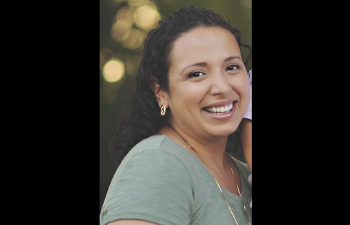 Saint Xavier University (SXU) international business alumna Adriana Aranda '04 has found success in Oak Lawn with her boutique nut-free bakery, Simply Sweet Creations.
Before Aranda would devote her life to baking, she attended SXU and developed the skills needed to become a successful businesswoman. After graduating, Aranda joined Merrill Lynch's credit training program and served as an analyst in the commercial lending division. After a few years, she became assistant vice president and credit underwriter in their global wealth management division. While she enjoyed the analytical aspect of her banking career and working with large businesses to provide lines of credit and investment lending, she especially enjoyed her hobby during her time off – baking.
"Baking and decorating was my creative outlet. I took a cake decoration class at a local bakery on the North Side and then offered to help teach cake decorating classes. I learned many techniques and fine-tuned my decorating skills working closely with the head baker. After that, I started making cakes for friends and family and created a website. My few customers soon grew to 300+ and I knew I had a viable hobby," said Aranda.
When Aranda, whose family had nut allergies, realized there weren't any nut-free bakeries on the South Side, she decided Oak Lawn would be the perfect place to start one. She'd grown up in the area and attended Queen of Peace High School, so she was pleased to stay local and provide safe, allergen-friendly desserts for the community. After 10 years in banking, she left to follow her dreams as an entrepreneur and create a company that makes a positive impact in people's lives and the community it serves.
Aranda is grateful for the business degree from SXU that helped to guide her through many business decisions. She was initially drawn to study business because she enjoyed analyzing numbers and the idea of contributing to a company's growth. The classes she took at SXU helped to prepare her for both her career in banking and as a business owner.
"I learned to dig deeper and analyze the details in order to understand the cause of a problem and find a solution. This has stayed with me through my banking career and now as an entrepreneur. Marketing classes at SXU also helped me create a unique brand in a small niche market with lots of demand," said Aranda.
Aranda has many fond memories from her time at SXU, including a class trip to Spain and Portugal.
"Our class trip with Professor Clott was so memorable! I remember going to visit local ceramic companies in Portugal, wineries, and factories in Spain. It started my love for travel, embracing different cultures, and seeing how small companies grew their businesses with exporting and trading," said Aranda.
Simple Sweet Creations will soon be celebrating 10 years and Aranda is looking to expand to a second location in northern Texas.
---