SXU Alumna Gives Back to Advance SXU Mission and Student Success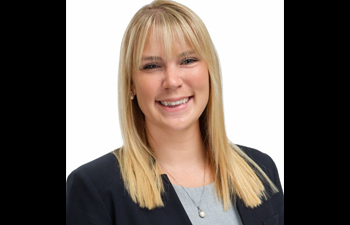 As we approach We Are SXU Day, we are grateful for alumni donors like Saint Xavier University (SXU) alumna Michelle Tourtillott '12, who is helping to advance the University mission and student success with her recurring donation to the women's basketball program. Tourtillott's own success is evident of the value of an SXU education.
Tourtillott graduated with a political science major and Spanish major. Prior to graduation, she'd expressed an interest in going to law school and one of her professors recommended that she connect with another SXU professor, Robert Shapiro, who met with Tourtillott to talk about his career. The informational interview blossomed into a job at Barack Ferrazzano Kirschcaum & Nagelberg LLP, where Shapiro worked. Tourtillott was able to gain valuable insight into the legal world and make connections with the community that remain intact today.
After graduating, she moved to Indianapolis to attend Indiana University's Robert H. McKinney School of Law to pursue a career in sports law. While she studied, she worked part-time as a law clerk for the National Collegiate Athletic Association's (NCAA) Office of Legal Affairs. She was selected for externships with USA Football and Indiana's Gaming Commission.
During school, Tourtillott developed a particular interest in intellectual property law, and her first job out of law school was the perfect culmination of her two passions, sports and intellectual property law. She secured a position as associate counsel for a collegiate licensing agency and assisted hundreds of collegiate institutions in the protection of their intellectual property assets. After seven years in Indianapolis, she made her way back to Chicago and transitioned from in-house counsel to private practice at a boutique intellectual property firm, Neal & McDevitt, LLC.
"In my work, I enjoy helping people – even if is in small or seemingly insignificant ways to most people. As an intellectual property attorney, I help individuals and corporations protect and build their brands and identities," said Tourtillott.
Outside of the office, she volunteers as a tutor for Tutoring Chicago and coaches a youth basketball team. Echoing her time at Saint Xavier as a student-athlete, she is happy to be in a place in her career where she can make time for both professional and personal growth.
Tourtillott is grateful for her time at SXU, as she believes her professors guided her to take classes that would help prepare her for her future. She particularly enjoyed the smaller class sizes and student-faculty ratio, which both made her college education feel more personalized. At SXU, she learned that building and maintaining relationships takes effort, but genuine and loyal friendships are some of the most fulfilling and rewarding relationships life can offer.
As a former student-athlete on the women's basketball team, Tourtillott has many great memories from her time at SXU.
"My fondest memories of SXU involve the experiences I had as a student-athlete. At the top of the list are going to National Tournament every year, beating the No. 1 ranked team in the national, and participating in basketball tournaments in Hawaii," said Tourtillott.
Tourtillott feels fortunate to have been coached by Bob Hallberg and Barry Shaw, who went to great lengths to ensure the women's basketball program at SXU was a first-class program. She feels forever grateful for the friendships gained and life lessons learned as a direct result of the culture and community the coaches instilled in her.
Tourtillott is proud to give back for We Are SXU Day and believes giving back to students at SXU will advance the mission and core values of the University.
"I am a recurring donor to ensure the future generations of Cougars receive the same first-class program experience that I got as a student-athlete. A little bit goes a long way. Setting up a recurring monthly donation is easy and can make a big impact on a student's experience at SXU," said Tourtillott.
---