SXU Alumna Launches Spa That Combines her Love of Science and Service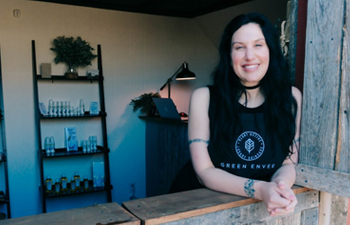 Saint Xavier University (SXU) alumna Amanda Mazur '03 has created a space that combines her love of science and service. B'Esties Wax, launched in October 2022, is a spa with a full range of professional hair removal and skin services. But it's not your average spa – located adjacent to Mazur's cabin and above her garage in the scenic Ozarks, the business was designed to provide a personalized, client-focused experience and prides itself on its diverse, inclusive clientele.
"I wanted to provide a completely personalized, non-rushed experience in the breathtaking beauty of the Ozarks. I block off time before and after each appointment to maintain privacy and safety and ensure quality over quantity. It's also a safe space for members of the LGBTQIA+ community to have intimate waxing done," said Mazur. "I really try to make it a VIP experience, like you're going to see your best friend who is also an esthetician."
Mazur's business took just under two years to build and open. She feels blessed to essentially work from home and spend more time with her rescue animals (seven dogs and four cats). Because of her location, many animals get dumped near her and find their way to her cabin in the woods, and she never turns them away – a testament to her love of SXU's core values, particularly hospitality and compassion.
Mazur took some time after graduating before she found her calling with her esthetician business. She initially planned to go to medical school but ended up joining the service and was active duty military for nearly seven years. She was medically discharged in 2010 and pondered what she wanted to do. She always loved science and health care, and she was also interested in cosmetic surgery, so she went to esthetician school and clinical laser training. She spent some time working in medical spas and getting experience at chains in Illinois before moving back to Missouri and teaching esthetics at the college she graduated from before opening her business.
Mazur was initially drawn to SXU because of the impressive student-faculty ratio and the highly-rated nursing program. Though she later changed her major to biology pre-health, she found the high-impact learning opportunities provided her with great hands-on experience, especially working with human cadavers.
"I've always been fascinated with anything science-related. I find it to be the most difficult yet incredible field in the world. Even though it was my weakest subject in high school, I was determined to excel. School never came easy for me, but that's part of why I really wanted to go to SXU – I was able to get a lot of one-on-one attention from my instructors, and I would not have been successful if I'd gone to a larger university," said Mazur.
The science foundation Mazur was able to build at SXU continues to guide her in her work today, and she's grateful for all the skills she gained.
"I really learned time management. I was working full-time and had labs and class time. I learned so much that I still use every day. Spending so much time in the labs and with instructors helped me to become a killer tutor for anatomy and physiology nursing students. Plus, when I was an esthetics instructor, I was able to really dive much deeper into anatomy of muscles when it came to massages, the science behind chemical peels, the physiology of skin, and how different diseases and illnesses affect the skin," said Mazur.
Mazur uses her science knowledge in her work every day. Oncology-certified, she can help guide cancer patients or survivors and understands things like how taking a certain medication might impact someone's body or skin, another unique component of her spa that sets her apart from estheticians who don't have a biology background.
In the future, Mazur plans to continue rescuing animals, building her business and services offered, and spending quality time with people. She is a big fan of the core value lifelong learning and plans to continue learning from her mentors, completing certifications and courses, and staying up-to-date on research.
"I'm really living the dream. I could not be more fortunate. I'm so grateful every single day because the road to get here was not easy. But it was absolutely worth it and I wouldn't change a thing."
---