SXU Alumna Launches Women's Healing Space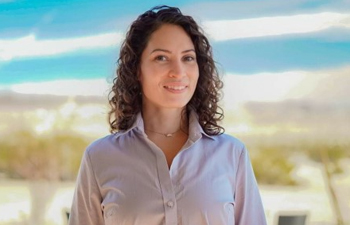 Saint Xavier University (SXU) alumna Jet'aime Covello '17 has launched an intentional healing community for women, The Bellona Temple, embracing alternative medicine and sisterhood to promote true healing through releasing painful emotions, developing self-awareness, and cultivating connection with community.
Jet'aime, who served as a combat medic in the U.S. Army before beginning her nursing career at Saint Xavier, sought to provide a healing space for women suffering from depression, post-traumatic stress disorder (PTSD), and trauma. In her work, Jet'aime explores a variety of healing modalities including herbal medicine, massage therapy, meditation, yoga, sound healing and more, with a goal of empowering women to take control of their health and well-being through holistic approaches.
Early in her journey, inspired by her family's generational patriarchs, both of whom served in wars, Jet'aime enlisted in the army and found it a tremendous honor to be the first woman in her family to serve in spaces where women's autonomy and power isn't traditionally celebrated. In battling her own military sexual trauma, combat PTSD and childhood trauma, Jet'aime was drawn to nursing as a door to embracing and implementing Margaret Newman's theory of health as expanding consciousness.
Jet'aime's military peers spoke very highly of SXU's nursing program, so it was a natural choice for her. She found the program was filled with mentors and leaders who constantly inspired her and solidified that nursing was the discipline within medicine for her. In exploring the field, she found a route from emergency medicine into mental health nursing.
While a student in SXU's nursing program, Jet'aime worked in pediatrics and shared an experience with a hospitalized child who'd received a sedative and had a psychedelic experience. During this experience, the child was able to vocalize the traumatic event and process the energy. After, the child seemed completely free of emotional upset and pain, and the experience kickstarted Jet'aime's journey into helping people find a sense of internal peace.
After graduating from SXU, Jet'aime worked as a registered nurse for the Department of Veteran's Affairs and then went into contract nursing, where she learned lots about societal impacts on mental health and began providing ketamine for treatment-resistant depression, PTSD and anxiety before beginning her work for The Bellona Temple.
Jet'aime was part of SXU's Student Veterans Alliance (SVA) and led the coordination to obtain a grant from Home Deport for remodeling the campus Veterans Lounge to make it more accessible. She has plenty of fond memories from her time at SXU including attending SXU's Homecoming celebrations, where the community held student veterans in high regard.
Jet'aime was especially grateful for Margaret Rose McDonnell, director of the Center for Accessibility Resources, who she said made a huge impact on her role as a nurse, inspiring her in her service to diverse patients. She's also thankful for the people and resources she found within SVA.
"SVA connected me with so many other peers who were also working through the process of trauma healing. In addition, I found community in the powerhouse of faculty leaders who really understood trauma-informed care and brought that into the academic space. It was wonderful to see SXU's innovation in bringing more trauma-informed care into their policies, instruction and operations," said Jet'aime.
In the future, Jet'aime and The Bellona Temple plan to build an intentional community available to women recovering from trauma and promote healing and expression within their communities. In addition, The Bellona Temple is working diligently to end 2023 with providing veterans access, through the Veteran Affairs' Community Care Network, to psychedelic ketamine experiences. To learn more about The Bellona Temple, visit them on Instagram or email cjetaimec@thebellona.org.
---