SXU Alumna Named Dean of Research and Doctoral Studies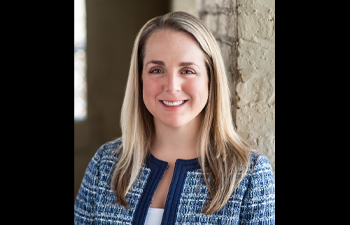 Saint Xavier University (SXU) alumna Amanda (Mulcahy) Jandris '01, Ph.D., has recently been named dean of research and doctoral studies at Trident University International.
As dean, Jandris is responsible for the research methods curriculum and dissertation process for all doctoral students at Trident, which offers seven different doctoral degrees. Her team works to manage common research courses and processes for the fully online university, which serves students all over the world.
"Most of our students are active or former U.S. military service members. Our mission is to provide academic programs in a way that not just accommodates but complements the realities of active duty. I love giving back by helping to serve those that serve our country," said Jandris.
As a Beverly native, Jandris was familiar with Saint Xavier and admired the University's excellent reputation for preparing teachers. She enrolled in the graduate secondary education program and graduated in 2001. After graduating, she immediately applied to a doctoral program at Loyola University Chicago and pursued a doctorate in research methodology, the study of education and the methods used to assess and evaluate what happens in schools. She secured a graduate assistantship and was able to attend school-full time. As she finished up the program, she taught courses at Loyola, Concordia University Chicago, and SXU as an adjunct.
Jandris was offered a full-time position at Concordia in 2004 and graduated with her doctoral degree in 2005. She served as a faculty member for 17 years and in that time taught research methods to aspiring school principals and superintendents. She also had the chance to work on the university's accreditation efforts, develop and grow their campus, cohort and online doctoral programs, and ran the Institutional Review Board as chair. In 2020, she moved on to pursue other opportunities to work with doctoral students and was hired at the American College of Education (ACE), serving as chair for doctoral research before she began her work at Trident.
Jandris has a wide range of academic disciplines for each of her degrees – a bachelor's in biology and natural resources, a master's in secondary education, and a doctorate in research methodology. While not a typical combination, Jandris finds that what is common to all the programs is the idea that through thoughtful study and design, we can understand the world around us.
"In college, I loved examining and learning about the natural world. As a teacher, I knew that if I really studied and understood learning on an individual and systematic level, I would make decisions and take action that supported growth. Whether we are talking about the environment or schools, we are talking about systems. As an undergrad, I was interested in understanding animal and plan interactions and I measured things like biomass and oxygen generation. As a grad student, I developed my understanding of teaching and learning and measured individual student growth, social-emotional learning and literacy. My interest in using the scientific method to understand these systems, whether in nature or in schools, connects all of these degrees," said Jandris.
Jandris believes her time at SXU helped to lead her to her career in higher education. She is especially grateful for faculty like Dr. [Quinn] Knight, who encouraged her and planted the seed for the idea of pursing a doctoral degree.
"Near the end of a math methods course with Dr. Knight, she stopped to ask me when I was submitting an application for a doctoral program. More than 20 years later, I still remember that moment. She planted a seed. I hadn't even considered a doctorate. She saw something in me I didn't know was there. Her encouragement led me to apply, and I know it contributed to my self-efficacy as I worked through my coursework and dissertation," said Jandris.
Jandris believes in programs and universities that open their doors wide to students who want to pursue graduate work so long as they provide the appropriate support to see students succeed – retention and high completion rates are important to her. Into the future, Jandris hopes to continue to do good work to support doctoral students and would love to possibly pursue an assistant provost or provost position.
---