SXU Alumna Named Leadership and Wellness Coordinator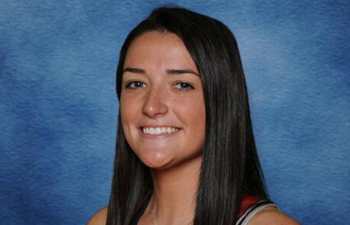 Saint Xavier University (SXU) alumna Claire Austin '21, '23 has been named the leadership and wellness coordinator at St. Laurence High School.
In the role, Austin will work directly with students in leadership activities and plan leadership events throughout the year. She'll also assist in planning wellness activities for the staff.
"We already have a great foundation, so I am looking forward to enhancing it and bringing new ideas to the role," said Austin.
Austin credits her time at SXU for preparing her for the role. Whether on the court or in the classroom, she found that her professors and coaches always encouraged her to have a voice.
"My time at SXU showed me how to be a successful leader. I learned to not be afraid to speak up and to always bring a positive mindset to the table," said Austin.
Austin was drawn to study business at SXU because she knew it'd be helpful in any career path. After graduating with her bachelor's degree in business in 2021, Austin chose to continue her education at Saint Xavier because of the knowledgeable faculty she met during her undergrad career. She especially appreciated the real-life experiences they brought to the classroom, which she believes truly helped students understand the business world.
While at SXU, Austin was a star on the women's basketball team, having earned multiple athletic accolades over the span of her career. Throughout her time on the team and within her academic programs, Austin finds that SXU helped her to become the best version of herself.
Austin hopes to stay connected to SXU throughout her career and is confident she'll use the lessons she gained there in her life every day.
---