SXU Alumna Promoted to Senior Director of Food Safety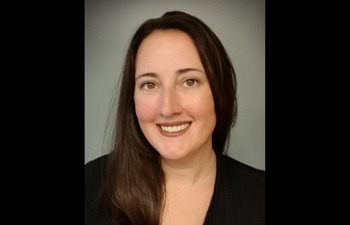 Saint Xavier University (SXU) alumna Devon Griggs '16 has been promoted to senior director of food safety for Conagra Brands. Passionate about food safety and with extensive experience in the industry, Griggs enjoys inspiring others and looks forward to watching her team grow.
Griggs was not a traditional SXU student and had a variety of work and educational experience before she began her studies at SXU. After graduating high school in 1994, she started college as an art major at the University of Wisconsin but decided to take some time off from school and began working at the Oscar Mayer plant in Wisconsin as a sanitation employee. Later, she decided to continue working full-time but began taking classes again and enrolled at the Madison Area Technical College. She was promoted to a supervisor role in 1998 and then given the opportunity to move to Missouri as a sanitation/production supervisor at a Kraft facility. Once adjusted, she became determined again to follow through with continued education and began studying at Drury University.
Her progressive career continued throughout her time at Kraft and she held multiple positions in sanitation, production and management. Having started off in logistics, she was soon recruited into the quality and food safety department and gained working knowledge of equipment calibrations, analytical analysis, product attribute and sensory testing, regulatory compliance, HACCP standards, and hygienic monitoring. In 2004, she got married and she and her husband decided to move to Chicago, where she paused her career to raise her family. She later returned to a logistics position at the Kraft/Nabisco Chicago Bakery facility and enrolled part-time at Saint Xavier.
While Griggs was a student at SXU, Kraft Foods divided into international snacks under Mondelez International and she became a Mondelez International employee. With five classes left, she decided to stop working and go to school full-time. From 2009 to 2016, she attended whatever classes she could fit into her schedule as she balanced full-time work, home life, and maintaining high honors. She graduated summa cum laude in December 2016. During her last semester, she was offered an opportunity as director of hygiene for consumer foods with Aryzta, which she accepted upon completion of her degree.
In 2018, she was offered an opportunity to return to Mondelez International in a global role as the section sanitation manager for North America and Latin America. She stayed in that role until May 2022, when she left to start a new journey with Conagra Brands as the director of food safety special operations (FSSO). Most recently, she was promoted to the newly developed senior director of food safety.
As the senior director of food safety, her realm of responsibility extends beyond the food safety special operations team and now incorporates corporate allergen and sanitation teams as well. Her team is comprised of food science, chemists and microbiologist professionals, who all bring special contributions to the team dynamic. As their leader, she drives continuous improvement mindsets and challenges them to creatively explore new methods and technologies that may bring value to the organization.
"I am super-passionate about food safety and the importance of what we do as food safety professionals every day. As a food safety leader within the food industry, I love inspiring others, getting folks excited about what they do, and preparing my team to be successful within their next roles. I enjoy problem-solving and consider my approach to be very pragmatic and practical," said Griggs.
Griggs chose SXU because her husband received his MBA from SXU and highly recommended it. Some of her favorite memories from her time at SXU include the excellent faculty, insightful conversations and real-life professional experiences that were shared with students. She's grateful for her time there and credits it to teaching her to be resilient and understanding of others.
"It was a real challenge being an older adult, raising a family, and sitting in day classes with the younger generation. Resilience came from not giving up throughout the duration of my 20-year bachelor's journey. One of my proudest life lessons was having my children witness me graduating from SXU. I use this as leverage to motivate them. SXU also taught me to want to understand others – I learned to appreciate the different perspectives that were presented during in-class discussions, regardless of age differences," said Griggs.
In the future, Griggs hopes to pursue a master's degree within the next few years. She also plans to continue to be the best advocate she can be for food safety and sanitation professions with hopes of securing the future of food safety with incredible talent.
---