SXU Alumna Publishes Debut Novel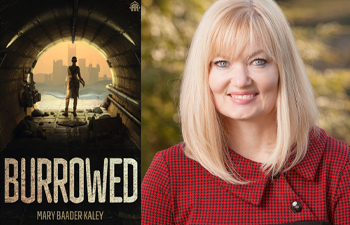 Saint Xavier University (SXU) alumna Mary Baader Kaley '91, '97 has published her debut novel, "Burrowed." A sci-fi novel, the story is set in the distant future, where a plague has separated humanity in two – those who live in underground burrows and those who live on the surface. Zuzan Cayan, a brilliant girl with "light blindness," must leave the safety of her burrow to earn a living. Offered the chance of a lifetime to study her population's broken genetic code to fix the divide and reunite the world, Zuzan is confronted with a new virus and must find a cure for humanity – or risk it becoming extinct.
Baader Kaley wrote "Burrowed" over a three-year period and revised it several times while looking for an agent and publisher. The entire process until publication took much time and determination, and she's ecstatic it's making its way into the world after a 10-year process.
In "Burrowed," Baader Kaley seeks to explore how differently abled people are treated based on their disability. She was inspired by her son, who she says is an amazing individual who is so much more than his disability.
"My son was born with a brain malformation in 2007, and he didn't speak until he was four. He's now diagnosed with autism and has trouble communicating back-and-forth in any type of conversation. But if you know him well enough, he gets his point across to anyone listening closely. He truly makes me laugh a lot every day, so to give characters with disabilities a voice means a lot to me – more than I can express in words," said Baader Kaley.
Though both Baader Kaley's undergraduate and graduate degrees from SXU are in psychology, her writing career was sparked after 2010, when she began looking for a creative outlet and joined a few online writers groups and began writing short stories and flash fiction. She wrote several books over the next few years and used constructive feedback and the help of her English major sister to hone her craft.
She decided to study psychology at SXU as it was something she was drawn to since she was young and enjoyed both listening to and helping her friends, who found her calm demeanor comforting. Baader Kaley's father was a teacher at Brother Rice High School and spoke highly of SXU. Impressed by the professors and cozy feel of the school, Baader Kaley found SXU was just right for her.
"Saint Xavier was the environment I needed at the time I went to college. I appreciated the diversity and overall kindness of my fellow students, and I loved truly knowing my professors, who likewise knew me by name. I was flattered when other departments like philosophy or math asked if I was interested in double-majoring. It was a close-knit community and everyone wanted to see each other succeed," said Baader Kaley.
Baader Kaley has many great memories from her time at SXU, from meeting her husband at SXU in their freshman English class to having a pyschic in the Diner predict she would become a writer!
"It's the relationships that I remember most from Saint Xavier - from the organized social events to the lunchtime events in the Diner to the professors who helped me get published in academic books," Baader Kaley said.
Baader Kaley will appear for a book signing at Barbara's Bookstore in Orland Park on January 14 at 2 p.m.
To keep up with the author, visit her website or find her on Twitter at @marybaka.
---