SXU Alumna Receives Emmy Award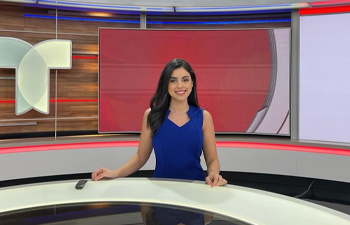 Saint Xavier University (SXU) alumna Miryam Villarreal '17 has been awarded her first Emmy for a two-part story she and her team did about a group of Escaramuzas who keep the all-female equestrian sport alive in California.
"Mothers we spoke with told us how important it was for them to pass down the traditions to their daughters; at the same time, their daughters told us they proudly want to keep their Hispanic heritage alive while living in the U.S. Our story really highlighted the importance of carrying tradition through generations and being proud of our roots. I'm happy we were able to deliver that message and that it could resonate with many of us who come from migrant families," said Villarreal.
Villarreal, who majored in communication and minored in psychology, began working as a human resources intern for Delaware North at Guaranteed Rate Field after graduating, but a few months later, she landed her first job as a reporter at Noticias WINK, a Univision affiliate in Fort Myers. After a year of reporting, she got promoted as news anchor for evening newscasts and also worked during the mornings for the radio station 96.6 WINK FM, giving live traffic updates. In 2022, Villarreal moved to Sacramento and began working as a reporter for Noticiero Telemundo California and is the main anchor for the 5, 6 and 11 p.m. shows.
Villarreal grew up in a household where watching the news was important – they'd watch it after school and before going to bed, and they relied on television news to stay informed on what was going on in their community and the world. These were the moments that first sparked her curiosity in journalism.
"Though my dream as a child was to become a doctor, as I got older, I got more interested in journalism. I always enjoyed learning, and reading and writing were my favorite assignments. I was very shy, and I knew pursuing journalism would require me to get out of my shell, so it was a challenge I was determined to take on," said Villarreal.
While at SXU, Villarreal did an internship at Telemundo Chicago, which was eye-opening to her and set the foundation for the importance of storytelling in the field. She grasped as much as she could during her internship, from what went on behind the scenes to what was happening on the screen.
As an anchor, Villarreal's goal is to inform with context in a clear and concise way and explain why topics are relevant and how they affect our lives. She especially enjoys being active within her community and has had the opportunity to participate in many events, including serving as master of ceremonies for HOPE's 29th Annual Anniversary Latina Action Day. Villarreal was grateful to spend the day surrounded by inspiring women leaders from all over California who pave the way for future generations.
"There are so many aspects I enjoy about my career. My favorite part is getting to learn and connect with people from different walks of lives. Journalism helps us connect with others and provide people with accurate information that can help them make better decisions. I believe every person has a story to tell and every story is as important as the next," said Villarreal.
Villarreal credits her success to much of what she learned at SXU.
"The classes I took there helped me practice my writing and taught me how to do research and how to think critically. I fondly remember my senior seminar project, where I did a documentary on the advantages of being bilingual. For the assignment, I wrote a research paper, conducted interviews with bilingual people from different backgrounds, shot B-roll and scenery, and edited the material. With my bilingual skills, I am able to connect with a broader community, and I use these skills every day as a journalist!" said Villarreal.
As a student, Villarreal was a senior news editor for the Xavierite and a member of the Psi Chi psychology club and Tau Sigma. She found that being part of the organizations made her time in college more enjoyable, and she strongly encourages students to get involved to develop communication, leadership, and self-starter skills.
One of Villarreal's favorite memories from her time at SXU was participating in the Awakenings Retreat organized by Campus Ministry. She signed up knowing only one person and left having gained an entire support group.
"It was a great moment of connection with God, to deepen my faith and go through a spiritual self-reflection. I was able to meet people from different walks of life and those who've gone through similar journeys to mine. The retreat helps to bring people together and learn to be more understanding and supportive of others," said Villarreal.
Villarreal's next goal is to make it to the national news.
---