SXU Alumna Triple Threat: Dentist, Teacher and Business Owner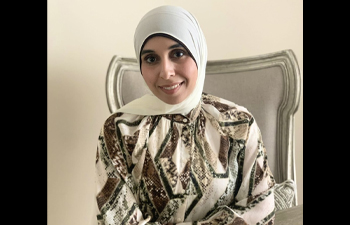 Saint Xavier University (SXU) alumna Isra Hamad '12 is using the skills she gained during her time at SXU to provide excellent dental care to patients and prepare the next generation of dentists.
Hamad was an incredibly active student during her time at SXU, majoring in biology and minoring in chemistry and English. She was also a member of the University's Honors Program, designed to nurture future leaders and provide students an opportunity to conduct independent research and participate in an apprenticeship in professional knowledge and skills.
After graduating, Hamad immediately enrolled in dental school at Indiana University School of Dentistry and earned a Doctor of Dental Surgery (DDS). She also earned a Certificate of Public Health from the Richard M. Fairbanks School of Public Health.
Hamad's favorite thing about being a dentist is building relationships with her patients and watching them grow. She's developed an excellent bedside manner in an effort to help patients feel good about their experiences with her. Hamad knew she wanted to be a dentist since she was 14 years old.
"When I got braces, I started shadowing my own family dentist and found it so fascinating. I was excited to begin studying biology at Saint Xavier because the University was affordable, close to home, and provided me with excellent scholarships," said Hamad.
Hamad was also grateful for SXU's small class sizes and the close camaraderie she enjoyed with peers, especially those in the Honors Program.
"It was so nice to collaborate with students from other majors. I really experienced a feeling of family at SXU, which I know peers at larger schools didn't have. I was able to connect with the faculty, ask questions, and have one-on-one time, which helped me greatly. I also learned from SXU that 'perseverance is key,' something an organic chemistry professor once said in class. I carried that with me through dental school and in life," said Hamad.
Hamad was also very involved in extracurriculars. She was part of TriBeta and the Chemistry Club and served as an orientation leader and president of the Muslim Student Organization (MSA). She's incredibly proud of not only reigniting MSA while she was there, but being part of the committee that secured a prayer room for Muslim students on campus.
"As Muslims, we pray five times a day and there was no designated area on campus for us to pray. Securing the room was a lot of hard work and a collaborative effort. Knowing that it's still used today shows how much it was needed, and I am very grateful we were able to provide it for future generations. Being involved on campus made my time at SXU a richer experience for me," said Hamad.
In addition to her work as a dentist in Bolingbrook, Hamad also teaches as an adjunct at Midwestern University. She finds that as a younger dentist, students can relate to her more. But if that didn't keep her busy enough, she's also co-owner of The Booth, a pop-up photo booth for weddings, showers, graduations and more, servicing the Chicago area. Hamad co-owns the company with her brother, a software engineer, who handles the setup while Hamad handles the communication.
In the future, Hamad hopes to open her own practice and create a good work-life balance so she has plenty of time to spend with her two children.
---