SXU Alumna Works to Champion Books and English Teachers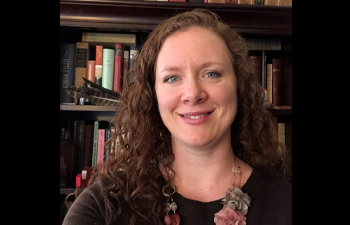 Saint Xavier University (SXU) alumna Sarah Miller '05 is passionate about supporting education and the freedom to read, and her journey began at SXU, where she found a myriad of opportunities, rigorous coursework, and supportive staff and faculty.
As a first-generation student, Miller started her academic career at Judson College as an elementary education major but switched to English during her second semester. She left Judson after two years due to financial and family hardship. In the years that followed, she got married to her husband, James, and came to SXU as a returning student, where she relished the opportunity to finish school and be the first in her family to earn a college degree.
Though Miller hoped to begin work in publishing, she got a call in 2010 from Judith Hiltner, professor emeritus, who alerted her to a job available for supporting SXU's Honors Program. She was thrilled to come back to SXU and worked as office manager and then coordinator of the Honors Program for several years before making the transition to coordinator for the graduate Communication Sciences and Disorders program. After nine years of service to SXU, Miller was ready for new challenges and made the move to the National Council of Teachers of English (NCTE), where she works remotely as the program coordinator.
Miller's role at NCTE is the senior coordinator of intellectual freedom and book initiatives. She provides support to members through the Intellectual Freedom Center, responding to censorship reports from educators and providing resources related to intellectual freedom. She's also the liaison to NCTE's Standing Committee Against Censorship and works with Build Your Stack®, an initiative focused on helping teachers build their book knowledge and classroom libraries. Miller also assists with NCTE's children's book awards, book giveaways and partnership with other book-related organizations.
"My favorite thing about working for NCTE is that I get to support and champion books and English teachers in a myriad of ways! Whether I'm coordinating a book giveaway, managing an online or in-person professional event, helping educators access and create book rationales, or managing our book awards, I get so many opportunities to learn more about books, authors, and literacy and share those with our audience and members," said Miller.
Miller appreciated that her time working at SXU allowed her to support students in their academic careers and support the educators who make a real difference in their students' lives.
"College is a unique, often complicated time of life. Students are learning about who they want to be, what's important, and what the possibilities for the future are. I always tried to live out the SXU mission by serving students, faculty and fellow staff each day with practical support and compassionate communication," said Miller.
A lifelong reader, Miller was drawn to study English because she found she had a natural aptitude for the subject.
"No matter what your degree is in, you have to do the work to build skills and find jobs and careers where you can use those skills in unique ways. A degree in the humanities makes me a much more flexible person and worker able to think critically, evaluate situations, and emphasize with others," said Miller.
Miller was pleased with the opportunities offered to her at SXU and found the smaller class sizes allowed for direct engagement with her professors. At SXU, she found mentorship and support that helped her to understand herself as a student and person in a more well-rounded way.
"The faculty and staff invested in me as a student and person in ways that have led to lifelong friendships and impact. Utilizing their depth of knowledge helped me to decide what types of jobs were possible for me, how to excel with my work, how to access service and experiential opportunities, and more," said Miller.
Miller enjoys the influence SXU has had on her family. Her husband, James, is a manager for Information Technology and her two boys have spent a lot of time on the campus over the years and are considering attending in the future.
"SXU, the people we've met, and the mission of the University have affected all of our lives profoundly," said Miller.
While a student at SXU, Miller was part of the Philosophy Club and Sigma Tau Delta and had work-study experiences with the Honors Program, Academic Affairs, and the College of Arts and Sciences. As staff, she served as a chaperone on Spring Break Service Trips and secretary for Staff Council.
Miller has plenty of fond memories from her time at SXU, especially attending the Chicago Humanities Festival each fall, which hugely expanded her worldview and led to many of the decisions she made in the future about how to engage with people, authors, creators and ideas. She also enjoyed sitting in the Bishop Quarter Room to read or study, admiring the rooftop view from the Fourth Floor Boardroom, and attending events in McGuire Hall.
In the future, Miller plans to speak at several state and national conferences to talk about book choice and intellectual freedom. She is also considering pursuing a master's degree in public policy to help augment her understanding of what is needed at the state and federal level to support education and the freedom to read.
---