SXU Baseball Wraps Standout Season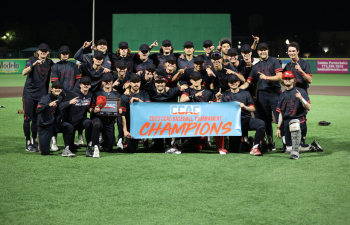 The No. 3 seeded Saint Xavier University (SXU) baseball team recently defeated Indiana University South Bend (IUSB) 7-1 to win the Chicagoland Collegiate Athletic Conference (CCAC) Championship for the second time in program history. With the win, the Cougars advanced to the NAIA National Championship Opening Round.
In head coach Addison Rouse's third season with SXU, he often tells his players to play with passion, have fun, and play for each other. Ultimately, that advice worked out in the Cougars' favor, as the mantra led them to victory.
"This group means everything to me. To see them dog pile [after the win] was more than fulfilling. I'm so happy for them. They never wavered and they stayed in control the entire time," Rouse said.
Sophomore pitcher Nico Saldias threw a career-high 11 strikeouts during the championship game, bringing him to a season-total of 102 strikeouts. This makes him the sixth pitcher in program history to record 100 or more strikeouts in a season.
"He was masterful and in control from the first pitch to the last. It was as good of a performance as I've ever seen and witnessed. He deserves to be a part of history," Rouse said.
As the Cougars are still riding high from the CCAC Championship win, they didn't want to lose sight of the goals they set for themselves at the beginning of the season.
"This time of year, it's easy for guys to be beat up and exhausted, but right now we're running on pure adrenaline and we went into it with a 'why not us' mentality. Our mentality was to win this championship from the beginning. We've envisioned and meditated on that [CCAC win] for three years, and it was a culmination of that vision. Going to the national tournament was an amazing opportunity for our program. I couldn't be prouder," Rouse said.
After a hard-fought battle during the NAIA Opening Round Tournament, SXU saw its standout season come to an end after a 10-3 loss to Concordia University Nebraska.
"103 wins in 3 years. Two national tournaments. One CCAC title. I truly thank my unbelievable group of student-athletes who've laid an undeniable foundation," said Rouse.
---