SXU Business Alum Succeeds in Real Estate Market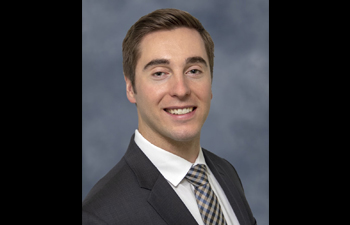 Saint Xavier University (SXU) alum Tyler Sharp '17 believes the realistic approach of his undergraduate business courses helped prepare him for success into the future.
After graduating from SXU, Sharp began working at Marcus & Millichap Commercial Real Estate. He specializes in brokerage and advisory services for investment real estate and his team focuses on the industrial sector. Sharp manages the Midwest Markets for his team, TAG Industrial, in Chicago. He enjoys the mentorship and partnership side of the business as well as meeting new clients and learning their stories so he can provide the best advice.
"Real estate is very interesting as there is such a diverse group of individuals that own real estate for various reasons. Whether it's for investment, running a company, or building new developments, the stories of how the individuals began owning their real estate is the most exciting and enjoyable part of real estate," said Sharp.
Sharp was always interested in going into sales and considered himself entrepreneurial by nature, as he grew up in a household where both his mother and father started their own business. He believed majoring in marketing and management at SXU would help prepare him best for a sales opportunity once he graduated.
Sharp was recruited by football coach Mike Feminis. He also knew some of the other players on the team who had spoken very highly of SXU. Once on the campus, he realized it was the perfect fit for him.
"I thought the undergraduate business program was very beneficial in preparing me for my future. I enjoyed my finance and marketing courses and thought they were taught with a realistic business approach," said Sharp.
Sharp also enjoyed being surrounded by like-minded peers who challenged and encouraged him.
"I met a lot of great people at SXU and we always had a good time. In one of my finance classes, I remember we had a project where we got to be part of a commodities trading competition. I thought that was an interesting project and learned a lot from it," said Sharp.
While at SXU, Sharp also helped to manage the Student Hedge Fund during his senior year.
In the future, Sharp plans to continue his career in commercial real estate with Marcus & Millichap, focusing on the growth of his team in the industrial market.
---