SXU Celebrates Asian Pacific American Heritage Month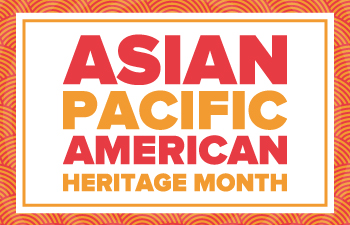 Throughout the month of May, Saint Xavier University (SXU) has proudly celebrated Asian Pacific American Heritage Month (APAHM), honoring the incredible achievements of Asian Americans and Pacific Islanders and the important contributions they've made to bettering our world.
Each year, the Robert and Mary Rita Murphy Stump Library offers the community a beautiful display of books, films and performance art collected in recognition of APAHM. The rich heritage of Asian Americans and Pacific Islanders has shaped the history of the United States for thousands of years, and the broad collection at the library details their impact on the arts, sciences, commerce and more.
As a broad term, "Asian Pacific" encompasses all of the Asian continent and the Pacific islands of Melanesia (New Guinea, New Caledonia, Vanuatu, Fiji and Solomon Islands), Micronesia (Marianas, Guam, Wake Island, Palau, Marshall Islands, Kiribati, Nauru and the Federated States of Micronesia) and Polynesia (New Zealand, Hawaiian Islands, Rotuma, Midway Islands, Samoa, American Samoa, Tonga, Tuvalu, Cook Islands, French Polynesia and Easter Island), as well as the Indian subcontinent and South Asia, including Bangladesh, India and Pakistan.
May was chosen to commemorate Asian Americans and Pacific Islanders because of two important anniversaries: the arrival of the first Japanese immigrants to the United States on May 7, 1843, and the completion of the transcontinental railroad by Chinese laborers on May 10, 1869. More than 1 million immigrants journeyed across the Pacific and arrived on Angel Island. Chinese American laborers risked their lives to link our coasts by rail. The determination of this vibrant community represents the best of our national character.
Jinyoung Koh, Ph.D., SXU psychology professor, recommends that this year, students watch the movie "Minari," which represents familism, acculturation, generational dissonance and the American Dream of Asian immigrants.
"I encourage our SXU students to watch the film and reflect on the lived experience of first-generation and second-generation immigrants. The movie covers a rural area, and immigrants living in an urban context might have different lived experiences. I hope students can think about the similarities and differences between the lived experiences of immigrants in rural contexts and in Chicagoland. While watching the movie, I expect our SXU students will connect the critical dots of diversity, equity, inclusion and social justice and practice our mission in caring for human rights and supporting communities that are historically and politically under-resourced," said Koh.
The SXU community can also check out the Chicago Public Library's (CPL) collection highlights on the Korean American Archives Project, Japanese American Directories, and Forced Migration Photovoice Project; CPL's list of events and interactive opportunities; and Choose Chicago's overview of events and activities, exhibits and museums, and international neighborhoods.
We continue to be in awe of the many contributions made by Asian Americans and Pacific Islanders and celebrate their achievements every day.
---