/
/
/
SXU Celebrates Women's History Month with the Office of Inclusive Excellence
SXU Celebrates Women's History Month with the Office of Inclusive Excellence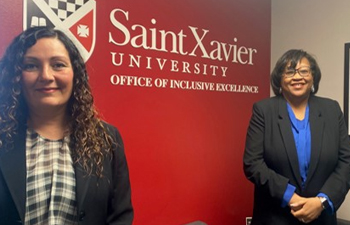 Saint Xavier University (SXU) is celebrating Women's History Month with the new women-led Office of Inclusive Excellence. Run by Chief Diversity Officer Natalie Page, Ed.D., and Executive Director of Diversity, Equity and Inclusion Imelda Macías, Ed.D., the Office of Inclusive Excellence has a goal to help everyone feel celebrated at SXU, and Women's History Month presents opportunities to reflect on the strength and incredible achievements of women at SXU, from the founding Sisters of Mercy to current leaders and pioneers.
"Women's History Month is a time of reflection in that it causes us to look back and see the accomplishments of women—whether it's Rosa Parks, Doles Huerta, Ruth Bader Ginsburg, Sonia Sotomayor or Michelle Obama. This is a month to celebrate the contributions of women and to acknowledge just how far we have come. It inspires us both to know that we stand on the shoulders of some relentless and courageous women who have changed the course of history," said Page.
Though both Page and Macías have faced adversity as women in their journeys, they feel fortunate to have had some incredible women mentors along the way and are proud of what they've accomplished.
"Being a woman and a woman of color, I've definitely had my fair share of adversity, but I have been fortunate to have great female mentors who have been instrumental in helping me to reach my educational and professional goals. Some of the best advice I've gotten is to advocate for myself, ask questions and be resourceful until I get answers. If I could talk to my younger self, I'd tell her you have more grit than you realize! Having support and knowing how to keep persevering has been the key to any success I have attained," said Page.
"As a first-generation student and the daughter of Mexican immigrants, I came across many challenges that could have potentially swayed me from working toward the goals I've reached thus far. Growing up in a low-income household in a gang-ridden neighborhood and experiencing slights from others for being a woman of color made me doubt myself at times, but strong and resilient women that encouraged and inspired me were always placed in my path along the way. They inspired me to strive for more and my self-confidence grew stronger, as did my determination to continue pushing myself," added Macías.
As women, Page and Macías believe they bring a level of compassion and care that helps them to work well together. Their passion for diversity, equity, inclusion and belonging is at the heart of who they are. They also feel they possess qualities as women that are sometimes unrecognized in traditional workplace culture, like empathy, creativity, tolerance, dignity, gentleness, kindness, endurance, and the ability to nurture.
One of the goals for the Office of Inclusive Excellence is to be a place where mentorship can occur and the women of this generation can experience inclusivity and equity in their career choices. Both women believe that women grow when they come together and support each other, and as first-generation students, they find value in paying it forward.
"We try to mentor through exposure and education, showing women that the sky is the limit. DEI for me means that opportunities are promoted to give equal treatment for all people, including underrepresented populations. I think women have made a huge impact in higher education. Some recent statics show that the number of women is growing in various positions in higher education. However, we still have a way to go in representation in roles of tenured faculty members and women in administration. We want to be a part of the solution in our support for women," said Page.
"To me, DEI simply means 'equitable opportunities for all.' As Dr. Page mentioned, women still have a way to go in many areas. That is why it is so important that we as women support each other, provide opportunities for each other, and show each other how education is one way to empower ourselves," said Macías.
Both Page and Macías are inspired by the work of SXU's founders, the Sisters of Mercy, who were pioneers in their work and efforts.
"When it comes to powerful women, SXU has a great foundation and model of powerful women who get it done. We are fortunate to have them as examples. We honor their heritage and work to fulfill the SXU Mercy mission," said Page.
"To this day, the Sisters of Mercy are exemplary women who work toward providing equitable opportunities for all by advocating for immigrants, Mother Earth, and other women, and by denouncing racism while promoting nonviolence. As women at SXU, we honor their legacy and draw on their example to guide us as we carry out our mission in the DEI space," added Macías.
Throughout Women's History Month, SXU will offer a variety of programming to empower and educate, including a business expo highlighting the women entrepreneurs of SXU, HERstory sessions about women in education, a show from a female comedy group, Las Locas, and more. For a full list of events, view the Women's HERstory Month Calendar.
"We echo the quote of Diane Mariechild who says, 'A woman is the full circle. Within her is the power to create, nurture and transform.' We owe so much to the women who have gone before us. We are grateful to be in these roles where we can be examples and role models to women here at SXU," said Page.
---