SXU Early Childhood Education Student Publishes Children's Book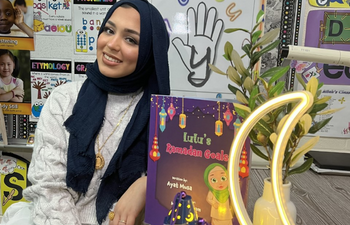 Saint Xavier University (SXU) early childhood education student Ayat Musa has published her first book, "Lulu's Ramadan Goals," which follows main character Lulu as she sets goals for herself in preparation for the holy month of Ramadan. The book highlights Lulu's efforts to be creative and make memories with her friends, demonstrating the importance of collaboration and striving for personal growth.
"The creation of this book holds significant personal meaning to me. As a student, I have always been passionate about developing materials that are easy for my fellow students to understand that also include engaging illustrations. Being able to accomplish my dream of becoming an author during my junior year is a source of great pride and satisfaction," said Musa.
Musa was inspired by her aunt's work as an author and appreciates the way she served as a role model in her life. She's also grateful for her family's unwavering support and encouragement, which has been instrumental in her success.
As an early childhood education major and ESL endorsement recipient, Musa is deeply committed to the field of education and finds immense joy in the process of helping young children develop the skills and knowledge they need to succeed.
Musa is a member of Students for Justice in Palestine, an SXU registered student organization. She finds that her involvement has allowed her to advocate for important causes and raise awareness about issues that matter to her, including her own personal connection to Palestine, which is reflected in her book.
"In the book, Lulu has a Palestine flag in her room, which represents where she's from and why her holy land means so much to her as a young girl. She recognizes the importance of the month for spiritual reflection, self-discipline, and self-improvement," said Musa.
Musa finds that working in the field of early childhood education has been incredibly rewarding and that her courses have been especially helpful in teaching her that being a teacher is not only about instructing children but also serving as a role model for them and helping them to achieve their goals. Musa is grateful to have a supportive advisor, Dr. [Meg] Carroll, who ensures that her students have the resources and support they need to become the best possible teachers.
"My time at Saint Xavier has been filled with wonderful memories, and I look forward to continuing to build connections with my classmates and colleagues while pursuing my future goals," said Musa.
Musa plans to continue to serve as a source of inspiration to others and to demonstrate to her students that they can achieve their aspirations. She's also enthusiastic about continuing her writing endeavors, as she aspires to bring joy to young readers through her work.
---