SXU - A Family Tradition: The Richardellas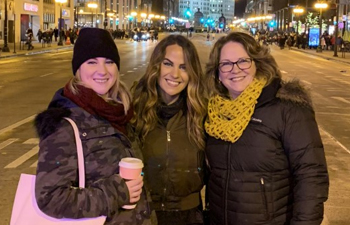 Saint Xavier University (SXU) legacy family Ilsa '97, Michelle '10, and Laura '13 Richardella have one impressive talent in common – they use the skills they gained from their time at SXU to impact the lives of others through education.
Ilsa graduated with a bachelor's degree in accounting in 1997. She took most of her classes in the Graham School of management and had three young daughters at the time. After graduating, she was hired as a staff accountant at a hospital and was soon promoted to senior accountant and then analyst. Later, she pursued a position in the business office of Community High School District 218 and finished her master's degree in education from Northern Illinois University. She became licensed as a certified school business official and then became an administrator and later business manager.
Ilsa was drawn to study accounting because she has always enjoyed math and measurements. She enjoys that the field is challenging and lets her measure the results of transactions and the impact of various mathematical assumptions. Ilsa likes to think of accounting as a different language for which she serves as an interpreter. In her current role, she translates financial results for the superintendent and Board of Education, helping them to make informed, effective decisions on behalf of the community. She is pleased the education she received at SXU allows her to put her talents toward the educational future of others.
"Many of the instructors I had at SXU worked within their field and they were great references to add real-life, practical examples of the subjects they taught, which made class more interesting and helped me to retain content. They didn't just teach, they mentored, and I try to do the same today," said Ilsa.
Michelle double-majored in education and art and since graduating from SXU has taught art in a variety of formats, from the alternative school setting to the general education classroom, plus within community programing and museum education. She earned a master's degree in interdisciplinary arts from Columbia College Chicago. While Michelle has always loved creating art, she didn't want it to be a solo experience and always wanted to work with people to share how art helped improve her quality of life.
Michelle has been a high school art teacher for 11 years and loves being able to use her creativity in the way she teaches and leads. Working with teenagers helps her to explore new ideas and concepts that will sustain their interest and motivation, and she loves witnessing the "spark" when things click for students. She especially loves how each day is ever-evolving.
Michelle finds that her time at SXU helped to prepare her for her career and bring important core values into her classroom. She carries with her great memories, including her art senior showcase and a special painting project she completed when she was student teaching, where students got to paint portraits for orphans in Indonesia.
Laura pursued a bachelor of arts in communication and after graduating in 2013, worked as a TV station manager for the city of Blue Island. Shortly after, she found her way back to SXU and began working for the University Relations team, where she currently works as the marketing communications manager, managing SXU's advertising/marketing campaigns and vendor communication. Early on in her career at SXU, she also managed social media and student blogs. Laura will graduate from SXU as a double alumna with an MBA in summer 2023.
When Laura and Michelle were children, they used to make their own parody commercials on their dad's camcorder and had a blast creating funny skits. In high school, Laura competed in radio speaking on the speech team and was the student general manager for the high school's TV station as well as entertainment editor for the school newspaper, so majoring in communication was the perfect fit for her.
In Laura's work with University Relations, she gets to work on important strategic initiatives with organizations like the Chicago White Sox, Chicago Blackhawks, Crain's Chicago Business, and more. She credits the first-hand experience she gained as a student at SXU for her current success, especially when it came to her senior seminar research project which she conducted on vlogging. With the help of Dr. [Renee] Robinson, she got to fly out to Florida to interview some of YouTube's top content creators.
"I enjoy getting to know so many different people and at the same time spreading the word about a University that gave me an amazing educational experience. We deliver on our mission and values, and I am so grateful that I can share that through the campaigns and promotional work I do now," said Laura.
The memories they share -individually and collectively- will last them a lifetime.
"One of my favorite SXU memories is when I asked my sister to work a sponsored event with me since she was an alumna and could speak to prospective students about her experience here. She ended up meeting her now husband at that event and they are expecting a baby boy!" said Laura.
"My absolute favorite SXU memories are coming back to SXU as a parent to see my daughters succeed. I was back at SXU to visit the art show with Michelle's work displayed and take photos with Laura all around campus when she graduated. They both continue to expand their education and are committed to their professional growth – I'm very proud of them!" added Ilsa.
"I'll always remember my service trip. For spring break, I went with a group of SXU students to Glenmary Farms in Kentucky. We went on a mission to help create housing in the Appalachian Mountains. This was such a great experience to use my time off for something good," said Michelle.
All three are passionate about the SXU mission and are proud to make a difference through education.
"We have all committed our talents toward the field of education. This field is about serving the needs of others to promote learning, communication, critical thinking, understanding of others and individual self-worth. When you commit to this each day of your everyday life, you don't realize that you are continuing a mission and a legacy. But small steps every day can make a large impact," said Ilsa.
The Richardellas look forward to the future – Laura will participate in SXU's May commencement ceremony, Ilsa will retire during the summer but stay active through the Illinois Association of School Business Officials, and Michelle will welcome her first child in May!
---