SXU Gallery Presents "Impressions of Precious"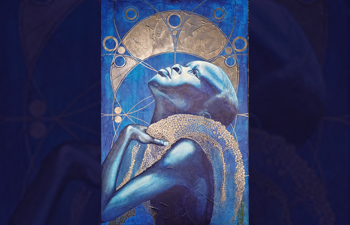 Saint Xavier University (SXU) will host "Impressions of Precious," the work of renowned contemporary metalpoint artist D. Lammie-Hanson, from September 25 to October 17, 2023.
"Impressions of Precious" represents a contemporary exploration of metalpoint, a medium that transcends historical boundaries. As few people of color have been represented in the 15th-16th-century medium, Lammie-Hanson hopes to inspire students to embrace innovation and push the boundaries of traditional art forms, encouraging them to explore their own unique artistic voices.
"I extend an invitation to embark on a voyage filled with moments of divine joy, transcending historical associations and amplifying diverse expressions of beauty. This celebration honors the inherent dignity and elegance of every subject," said Lammie-Hanson.
Born and raised in Harlem, Lammie-Hanson's journey into the art world was ignited at a young age and has been a source of inspiration and healing ever since. When she was just five, a family friend placed a pencil in her hand and taught her how to draw a simple stick figure, a gesture that would become the foundation of her lifelong passion.
"Throughout high school and college, art became my sanctuary during challenging times. I turned to quick sketches as a form of self-therapy, especially when I was battling depression. It was during these moments of vulnerability that I realized the immense power of art to heal and uplift. I aim to demonstrate the power of art as a form of personal and emotional expression. By sharing my journey of finding solace and moments of divine joy through art during challenging times, I hope to encourage students to explore their own creative outlets as a means of self-discovery and healing," said Lammie-Hanson.
As Lammie-Hanson continued to grow as an artist, she ventured into metalpoint work. The medium allowed her to create intricate and luminous representations of people of color and women. Lammie-Hanson sought to capture their energy and illuminate it with precious metals. She began working in larger formats, intending to immerse the viewer in the subject's world and inspire them in the process.
"My goal as an artist is not just to create beautiful pieces but to touch the hearts and minds of those who encounter my work. I want people to see the beauty, strength and resilience of diverse individuals and, in turn, find inspiration and hope in their own lives through art. Having my work presented in the SXU Gallery is an immense honor and privilege, providing a wonderful opportunity to share my artistic journey in 'Impressions of Precious' with a diverse audience, including students and faculty," said Lammie-Hanson.
Lammie-Hanson, who resides in Chicago, has exhibited nationally and internationally and continues to dedicate her time to researching, exploring and expanding her metalpoint series. To learn more about the artist, visit her website.
The SXU Gallery is open Monday, Wednesday and Friday from 10 a.m. to 5 p.m., Tuesday and Thursday from 11 a.m. to 5 p.m., and Saturday from 11 a.m. to 2 p.m. For more information, contact the Gallery at 773-298-3081.
---