SXU Gallery Presents: "In Their Own Light"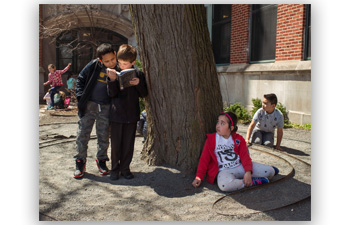 "Fantastic Beasts." Bell School. (2018)
Saint Xavier University (SXU) will host "In Their Own Light," the work of acclaimed Chicago artist Melissa Ann Pinney, from August 21 to September 12, 2023.
"In Their Own Light" is the result of Pinney's five-year residency at Bell Elementary School, the Ogden International Schools and Senn High School. When she began this work in 2018, she had no idea of how the project would evolve and shift through an ongoing pandemic, escalating racial and gender inequities, and continuing gun violence. Pinney has seen an astonishing range of identities emerge amid friendships and school rituals and wants her photographs to stand in complex ways against stereotypical, often negative images of these students – to celebrate and honor the young people in public schools.
"There is no one meaning I hope to convey in my pictures. I want work that is open-ended, rich with mystery and many possible meanings. The passage of time changes pictures too. Sometimes a favorite image will shrink over time; the best ones expand to resonate both with history and current events," said Pinney.
Pinney has been drawn to making art since she was a little girl, but it wasn't until she took a photography class in college that she found a medium that felt like hers. Years later, she's excited to have her work on display at SXU.
"I am thrilled to have my work from Chicago Public Schools (CPS) at the SXU gallery as my ties to Saint Xavier go way back to my first artist residency at the Evanston Art Center. The photography curator and art historian, Gretchen Garner, taught at Saint Xavier and brought me to her class as a guest artist. I also met Professor Ruggie-Saunders in her print-making class at the EAC. What makes this exhibit especially relevant today is that many of the students I got to know at Ogden International High School now attend SXU. It means a lot for me to know these students will see themselves and a project they participated in over several years honored here on their own campus," said Pinney.
Pinney will speak about her work on Wednesday, September 6, at 3:30 p.m. in the SXU Gallery. A reception will follow. To learn more about the artist, visit her website or follow her on Instagram at @melissa_ann_pinney.
The SXU Gallery is open Monday, Wednesday and Friday from 10 a.m. to 5 p.m., Tuesday and Thursday from 11 a.m. to 5 p.m., and Saturday from 11 a.m. to 2 p.m. For more information, contact the Gallery at 773-298-3081.
---