SXU Gallery Presents "A Wolk Village"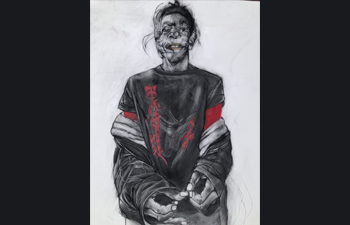 Saint Xavier University (SXU) will host an art exhibit that addresses the stigmas and societal constraints placed on African American men and women from Wednesday, January 18, to Thursday, March 2, 2023. The exhibit, "A Wolk Village," by Jesse Howard, will be on display in the SXU Gallery, located in the Warde Academic Center (L-114).
Howard's work is rich with symbolism and layered social references, speaking to the legacy of activism, current and national news and social conflicts, and the disenfranchised living their everyday lives.
"My figures are typically distorted to reflect the pressure and anxiety individuals feel inside and the perceptions and expectations imposed upon them by society. These images illustrate the most pressing issues of contemporary life," said Howard.
Howard uses charcoal, watercolor and collage, as well as fragments of newspapers, receipts or other scraps in his work, highlighting the physical presence of urban life.
"This exhibition is a valuable visual arts contribution to and celebration of Black History Month," said Cathie Ruggie Saunders, SXU Gallery director.
Howard will speak about his work at a presentation and reception on Thursday, February 23, at 3:30 p.m. in the SXU Gallery. All are welcome.
The SXU Gallery is open Monday, Wednesday and Friday from 10 a.m. to 5 p.m., Tuesday and Thursday from 11 a.m. to 5 p.m., and Saturday from 11 a.m. to 2 p.m. For more information, contact the Gallery at 773-298-3081.
---