SXU Graphic Design Student Earns "Best in Show" at Research Expo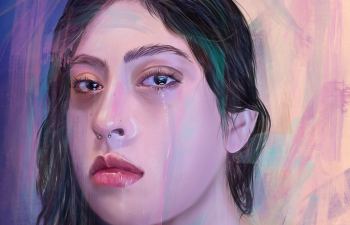 Saint Xavier University (SXU) graphic design student Angie Esparza has received an award for "Best in Show" for her Research Expo project "It's Raining Today and Tomorrow." The project consists of visual representations of emotional struggles Esparza has gone through, relying on the analogy between rain and a state of depression with no hope in sight. Her goal in creating the series was to help those experiencing the same mental struggles feel understood and seen.
"Receiving this award has truly motivated me to create even more art. It has also helped build up my confidence and has given me the reassurance I needed to become a better and stronger artist," said Esparza. "Research projects like these are a great opportunity to help you get a better understanding of how to put yourself out there and engage with an audience."
Esparza was drawn to study art because she believed it was one of the few vehicles in her life that allowed her to truly be herself and express her emotions without having to hold back. Inspiration strikes her in a few different ways.
"I have always had a habit of carrying a sketchbook around and use it to journal thoughts and record poems, lyrics and movie quotes. Later, I go back through the pages and take little excerpts to use them as prompts and create art with whatever emotion it inspired. If I've learned anything through the process, it's that I can use the rage and frustration that burnout may cause to create. It's just a matter of not taking the end product too seriously – you can always go back to a piece and once you learn to keep that in mind, you'll learn to love what you've created!" said Esparza.
Esparza finds that her classes at SXU have done much to prepare her for the future.
"The classes at SXU really help to instill the basic skills needed in everyday life situations. I've built better time management and organizational skills. Also, the overall vocabulary needed as an artist is very important, and I think the discussions we have during critiques definitely help enforce those skills," said Esparza.
Esparza is grateful for her time at SXU – the memories she's made, relationships she's built, and skills she's gained from her mentors.
"The relationships I have built here are truly the most valuable things I will take with me. I am grateful for Professors Cathie Ruggie-Saunders and Nathan Peck. Their teaching methods are polar opposite to each other, which is part of why I enjoyed their classes so much. They complement each other – their passion for teaching is very evident and I will take their lessons with me forever," said Esparza.
In the future, Esparza hopes to secure a job working for a design company and gain enough experience to eventually start her own design company.
---