SXU Hosts "An Evening With the Artist: Black Odyssey"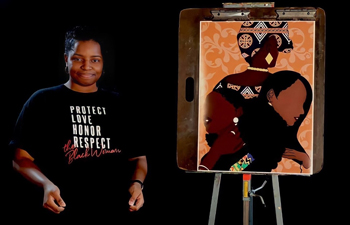 As part of Black History Month, Saint Xavier University (SXU) will host "An Evening with the Artist: Black Odyssey," featuring art from graphic design alumna Tatyanna Taylor '22. Taylor's art addresses the complex social issues of the Black identity. The reception will be held Wednesday, February 15, from 5:30 to 8 p.m. in the Butler Reception Room located on the SXU campus.
Taylor, who also minored in African American Studies, says she uses her art to encourage her audience to keep up with what's happening to Black people on a daily basis – the police brutality, wrongful convictions, racism and discrimination that inaccurately depicts African Americans in a negative light. She aims to carry deep meaning through the lens of cultural history.
"My stories carry a deep burden that the viewer must unlock. I seek to educate the uninformed and hold everyone else accountable for what they already know but refuse to act on," said Taylor. "In order to transcribe my own visceral feelings, my artwork evokes anger and grief in response to the racial violence and media silence of Black voices."
A Chicago-based visual storyteller, graphic artist and designer, Taylor's creative work begins with finding current affairs topics, cultural hairstyles and clothing. She then chooses a color scheme and creates artwork with a minimalist art style and semi-realism, working to present an accurate portrayal of Black people to amplify Black voices. Taylor's illustrations have been on display at various art galleries including SXU's Visual Arts Center, the Beverly Arts Center, Zhou B Art Center, the Brent and Jean Wadsworth Family Gallery, and more.
"As an artist, I work hard to develop drawings that demonstrate the importance of what it means to be Black in America due to racism, discrimination, and the systemic inequality that plagues us. My artwork speaks not only for me, but for my people who continue to be silenced when stating their hardships. I use my creative voice to speak for all communities, including my fellow Black people," said Taylor.
Admission including light appetizers and beverages is complimentary, but reservations are appreciated. To register, visit the SXU calendar. For questions, email alumniFREESXU.
---