SXU's Ludden Clinic Offers SPEAK OUT! Therapy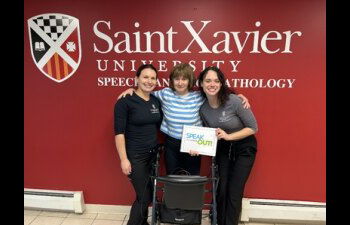 Saint Xavier University's (SXU) Ludden Speech and Language Clinic has received the 2023 SPEAK OUT!® Program Development Grant from Parkinson Voice Project. The program aims to make therapy accessible to people with Parkinson's and other related neurological disorders by training speech-language pathologists and speech-pathology students.
Carry Zaras, assistant professorial lecturer in the Communication Sciences and Disorders (CSD) Department, has been a certified SPEAK OUT!® provider since 2022 and was eager to participate in the program to continue the Ludden Clinic's mission of serving the community with free speech therapy services.
"It's an honor to contribute to Parkinson Voice Project's mission of providing therapy to individuals living with Parkinson's disease and related disorders. Because the purpose of this grant is so well-aligned with the mission of the Ludden Speech and Language Clinic, we can provide therapy free of charge and make it accessible to many clients who would otherwise not be able to participate," said Zaras.
The SPEAK OUT!® program offers a research-supported therapeutic approach to improving speech and successful communication. SXU students who receive training on the program will gain a greater understanding of Parkinson's disease, the challenges clients live with, and how they can work with clients to improve their abilities to communicate.
Over 40 graduate students have received their SPEAK OUT!® training and some students are now providing SPEAK OUT!® therapy under the supervision of clinical supervisors.
"My hope is that the training and experiences with our clients will inspire students to continue to help individuals living with Parkinson's disease. I hope that our clients are proud of their progress, are able to communicate with the people who are important to them, and can find motivation to continue to work on their speech long-term. I'm also hopeful the program will allow us to build more community partners," said Zaras.
In addition to individual therapy, SPEAK OUT!® group therapy is offered on Wednesdays at 11:30 a.m. during the fall and spring semesters. Those who are interested in SPEAK OUT!® individual therapy may contact the Ludden Clinic for an evaluation at 773-298-3571 or may complete an online application. Individuals who have completed SPEAK OUT! individual therapy and are interested in the SPEAK OUT! Group should call 773-298-3571 or email luddenclinicFREESXU to join the group. Both in-person and tele-health appointments are provided.
Saint Xavier University's Ludden Speech and Language Clinic has served the community since 1959 and has made a difference in the lives of thousands of clients since its inception. To learn more about the clinic, visit the SXU website.
---