/
/
/
SXU Mock Trial Team Competes in American Mock Trial Association Regional Tournament
SXU Mock Trial Team Competes in American Mock Trial Association Regional Tournament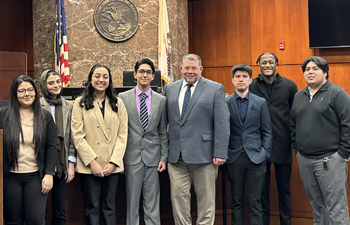 The Saint Xavier University (SXU) Mock Trial Team recently competed in the American Mock Trial Association Regional Tournament at the DuPage Country Courthouse. The SXU team won three of eight ballots and team captain Myah Bawadi received the Outstanding Regional Attorney Award, exceptional awards for a first-year team with a first-year coaching professor.
In August, 17 collegiate mock trial teams across the country received a case that they get six months to prepare for. They learn characters to play witnesses, memorize rules of evidence to prepare for objections, write and memorize direct examinations and cross examinations, and write and memorize opening statements and closing arguments. As the SXU team got familiar with the case, they began practicing full runs, considering various possibilities for trial outcomes.
This year's case was titled "Felder vs. Koller Campbell Air," a civil case about aircraft negligence. During the competition, the team does the same trial four times – twice as attorneys for the plaintiff and twice as attorneys for the defense. The competition takes place over a three-day period. The team uses various exhibits such as photographs and transcripts as evidence during the trial.
"As someone who has always wanted to be an attorney, the opportunity to prepare a case, speak to witnesses, learn how to object and answer objections, and learn legal theory has been absolutely incredible. Playing attorney for the weekend was genuinely so fun and it has further cemented my love for law. As a team, we thoroughly enjoyed the opportunity to problem-solve as a group and compete together," said Bawadi.
Over the course of the trials, students are scored by four different judges, who provide rank points. Team members Emory Duran, Maryam Zahdan, Cassandra Hernandez and Jordan Tims received ranks for Outstanding Attorney in their individual trials.
"The American Mock Association Regional Tournaments are incredibly intense and intellectually demanding competitions. Our SXU team put in countless hours analyzing a very complex case. They prepared direct and cross examinations, opening statements, and closing arguments and presented them in actual courtrooms. Their hard work paid off this weekend as they went up against some of the toughest teams in the county," said Matthew Thrun, team coach and adjunct political science professor.
SXU team members included Myah Bawadi, captain, attorney for the plaintiff and witness; Emory Duran, captain, attorney for the defense and witness; Armando Vasquez, attorney for the plaintiff and witness; Jordan Tims, attorney for the plaintiff and witness; Maryam Zahdan, attorney for the defense and witness; Cassandra Hernandez, attorney for the defense and witness; and Julian Rodrigues, timekeeper and witness.
"The team was just so committed. It was incredible to see all of our hard work since August come to fruition," said Bawadi.
---