SXU Nursing Student Earns "Best in Show" at Research Expo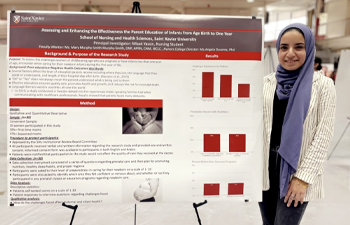 Saint Xavier University (SXU) nursing student Mlaak Yassin has received an award for "Best in Show" for her Research Expo project, "Assessing and Enhancing the Effectiveness of Parent Education of Infants from Age Birth to One Year."
Yassin knew that she wanted to be a nurse in high school, as she was drawn to making a difference in people's lives. In her junior year of nursing school, she completed an annotated bibliography of 10 sources to earn an Honors credit. With several concepts to choose from, she chose patient education. With support from Professor [Carly] Bruno, Yassin planned to research something she was passionate about and that would make a difference.
"Researching parent education of infants and exploring the challenges women experience in caring for their newborns was a fascinating process. I explored the challenges by interviewing women of childbearing age who were pregnant or had an infant less than one year ago. My sample was obtained from a local OB/GYN clinic who served mostly Arabic-speaking patients. I found that our health care system does not prepare our mothers in caring for their newborns," said Yassin.
To address the need, Yassin created an informative brochure about breastfeeding in both English and Arabic to try and alleviate the concerns of mothers in caring for their infants. Yassin found that engaging in the research not only helped her understand the educational needs of mothers, but it also allowed her to advance her skills in patient communication and care. She believes that quality and effective patient communication is a critical component of care for any nurse and strives to make her patients feel comfortable.
"After presenting my research and earning the clinical research award, I have gained confidence in my work. I am so proud to have come this far in an educational program that seemed so impossible at first. It was a team effort and I thank my parents, friends and professors, especially Dr. Murphy-Smith, my faculty mentor, Dr. Wood, my advisor, and Professors O'Hearn, Kwak, Garcia and Kelly, for all the time and energy they dedicate to their students' success," said Yassin.
Yassin encourages her fellow and future nursing students to never give up, no matter how hard it becomes.
"All you have to do is put your mind to it and it will happen. Never be afraid to ask for help. Asking questions is the key to success and will add to your knowledge and alleviate any confusion you may have," said Yassin.
Yassin, who also has a psychology minor, is a member of SXU's Honors Program, the Psi Chi Honor Society, the Sigma Theta Tau International Honor Society of Nursing, and the SXU Student Nurses Association (SNA).
In the future, Yassin plans to further her research regarding parent education by exploring the experiences of parents of premature infants. She also plans to publish the brochure she created to be used as a tool for both Arabic- and English-speaking mothers. Yassin would like to pursue an MSN and become a nurse educator. Her ultimate goal is to share her experiences and obstacles with future nurses to inspire them and help them get to bigger, better and brighter places.
---