SXU Nursing Students Educate Community on Important Health Topics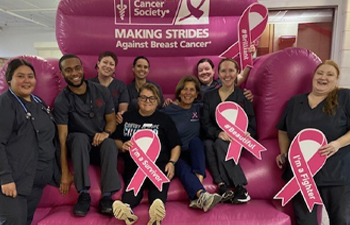 Saint Xavier University (SXU) nursing students, along with clinical nursing professor Zepure Samawi, Ph.D., MSN, BSN, RN, ANEF, recently partnered with Susan Latocha, MS, BSN, RN, CCRN, registered nurse for Advocate Health Care's Regional Community Outreach/Relations, to provide health education on hypertension and stroke, skin and breast cancer, and smoking and e-cigarettes at SXU's Shannon and Athletic Convocation Center.
The students, part of SXU's accelerated BSN program, are working to make a difference in the health outcomes of SXU students, faculty, staff and the community. Approximately 100 people attended the event and the nursing students gained great experience in health promotion and education.
"These nursing students made a difference in the health of the SXU community. An important role of the nurse is to engage in health promotion and illness prevention. This is exactly what the students did, professionally and with knowledge and competence," said Samawi.
Read more below to check out how nursing students reflected on the experience.
"My experience today changed my thinking. I realized that college students do care about being educated on their health. I think that it is great to engage them and teach them how to protect themselves," said nursing student Cristina.
"I know the people we talked to will walk away with some valuable information regarding breast cancer, skin cancer, lung cancer, stroke, and hypertension. Our goal is health literacy with an eye on preventative strategies, and I think we accomplished that here today," said nursing student Jessica.
"I think asking people questions to assess their health literacy just confirmed that patient education is very important and it can save lives," said nursing student Nicholas.
"Today's experience allowed me to practice my skills. Interacting with several types of people helped me become more comfortable and confident in my knowledge as the day went on. Several people I interacted with came from very different backgrounds with different medical issues, which really opened my eyes to how diverse a patient population can be. I was able to use my knowledge about hypertension and stroke to educate the public about symptoms and ways to prevent them," said nursing student Maggie.
"My experience today will improve my patient care because I demonstrated knowledge, promoted education on breast cancer awareness, and showed patients how to do a breast self-exam. We educated students on the breast self-exam as an early detection tool that uses a combination of physical and visual examinations of the breasts to check for signs and symptoms of breast cancer," said nursing student Meghan.
"I enjoyed talking with the students and educating them on hypertension and stroke prevention. I also enjoyed taking their blood pressure and telling them more about the normal ranges and what to look out for. As I was educating them, I was also practicing my skills. Preventing these diseases is the goal so we are able to live longer, healthier lives," said nursing student Gabriela.
"I expected that during the alternate clinical experience, I would interact with a few college students but that most of them would not be interested in stopping by our tables. I was surprised by the number of students that we interacted with. It was great that an entire class came to visit our tables. It was also great that we were able to interact with some community members that had come to the Shannon Center to exercise. I was inspired and impressed by the way that both Susan and Dr. Samawi were able to draw in the students and community members to engage with us. It inspired me to step outside of my comfort zone and be more outgoing when trying to engage with students," said nursing student Shannon.
---